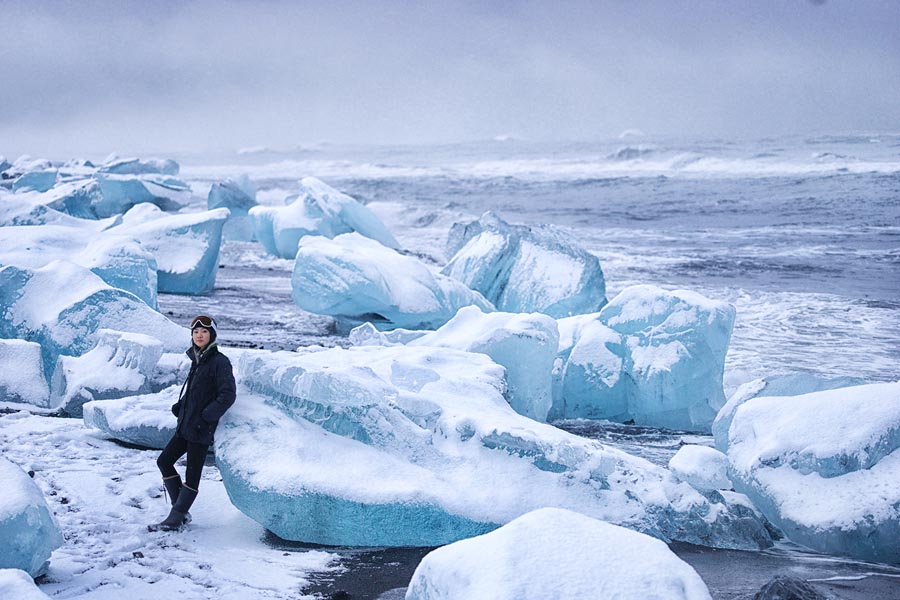 A Chinese tourist enjoys iceberg views in Iceland. [PHOTO BY QIAN PIN/FOR CHINA DAILY]
Fliggy's report about female travel consumption in 2018 shows the number of female travelers far outnumbered their male counterparts, both in terms of group tours and independent trips. Compared with other groups, women aged 29 to 34 had the highest consumption expenditure when it comes to travel. And women from Shanghai, Shenzhen, Beijing, Guangzhou and Hangzhou spent the most on their travel itineraries.
"A local photographer will know the best place to take a good photo when people are short of time. And, of course, a photographer's shots will be much better than an amateur's, like my husband. You can choose a studio based on the style that suits you best," says He Ruchao, 34, an office worker from Shanghai.
According to her, many high-end guesthouses around China already offer photography services and props, such as glass-bottomed boats, to help guests share their holiday experiences online.
People often mimic shots popularized on Instagram, such as a breakfast tray floating in a swimming pool.