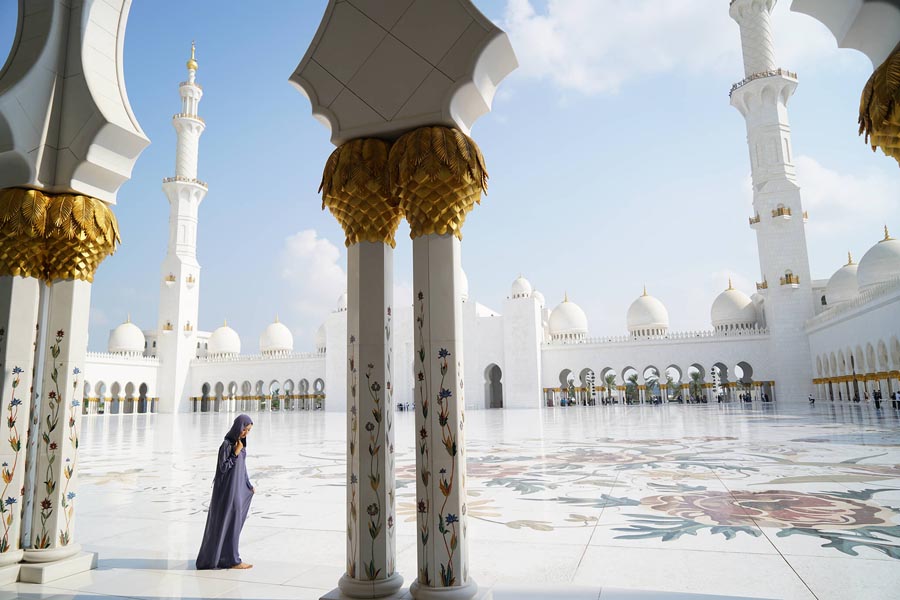 A Chinese tourist visits in a mosque in the United Arab Emirates. [PHOTO BY QIAN PIN/FOR CHINA DAILY]
Documentary approach
Du Yumeng, 29, visited the United Kingdom with her fiance during the National Day holiday in 2017, a month before their wedding.
They paid a local Chinese photographer for a one-day photo-shoot tour of four locations in London, including Hyde Park and Notting Hill. They brought three sets of costumes and hired their own makeup artist. The photographer shot candid photos as the couple strolled or chatted.
"In these street shots, my husband and I were making a lot of eye contact, and the photographer captured our emotions and expressions," she says.
"The photographer didn't teach us posing techniques and sometimes asked us to look back at him for certain shots. We just acted normally, and visited little shops as ordinary tourists do."
It's an unwritten rule that domestic photographers tend to beautify their subjects by retouching the images to remove skin blemishes or make them appear slimmer.
But the UK-based photographer only retouched the colors in the photos and didn't attempt to enhance the look of his subjects. This "documentary" approach appealed to the couple.
The couple had already shot their wedding photos in Beijing, and they had all been painstakingly retouched and enhanced.
"I don't really like the process of taking wedding photos. It's more like an assembly line of staged photography," she says.