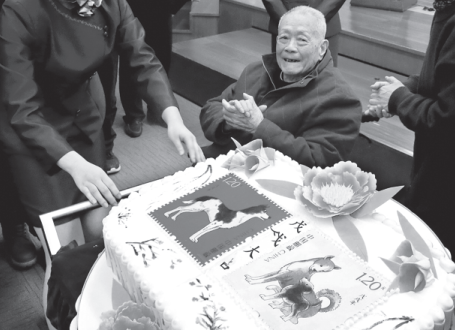 Zhou receives a cake in 2018, featuring two postal stamps he designed for the Year of the Dog.[Photo by Jiang Dong/China Daily]
Zhou Lingzhao recalls that in the factory's design room, they were provided with a catalog for reference that included a variety of patterns featured on many other countries' banknotes. But the team decided to use Chinese motifs on Chinese currency that reflect the country's artistic and cultural traditions.
"We went to the Forbidden City and Summer Palace to seek inspiration. We also traveled to the Yungang Grottoes in Shanxi province," he recalls.
"There, we painted copies of historical architecture, stone sculptures and statues, bronze ware and colorful floral patterns. And we researched styles of the Dunhuang murals."
He says the patterned frames on 2 yuan and 3 yuan notes respectively were based on the mullioned windows of the Forbidden City and the ribbons on deities of the Dunhuang murals. He circled the denominations with patterns to resemble the shape of a traditional Chinese lamp.
In 2011, an exhibition dedicated to Zhou showed his paintings and designs of murals at the National Art Museum of China. A selection of these works are on display at the current exhibition. Some of the landscapes on show were done when he was in his 70s and 80s. He traveled in China and went abroad every year when he was in better health.
"I will keep fit so that I can see more of the ever-changing world," Zhou says. "If possible, I want to visit the Xiangjiang and Zijiang rivers that run through my native Hunan province and do some paintings of the landscapes there."
Among his many students is Han Meilin, an artist who was the chief designer of Fuwa, the mascots of the 2008 Olympic Games in Beijing.
"What I've learned from Zhou is that the only rule in the world of art is 'there are no rules'," Han says.