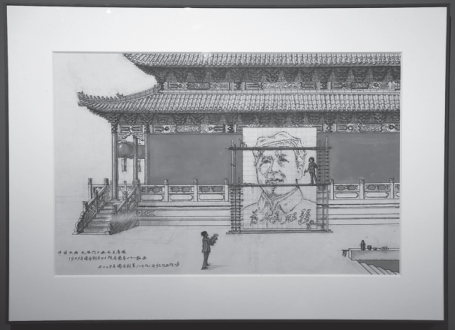 A watercolor painting by Zhou in 2008 re-creates the scene of him and his wife working on the Mao portrait.[Photo by Jiang Dong/China Daily]
Zhou recalls being asked to add the words wei renmin fuwu (serve the people) at the bottom of the portrait.
The couple completed the painting the day before the ceremony and returned home late. Zhou recalls that when they were about to go to bed, officials in charge of the ceremony visited and told them that, after seeing the portrait, then-premier Zhou Enlai and some other leaders suggested removing the words.
"We rushed back to Tian'anmen Gate. With the help of spotlights, I climbed a long ladder, which was made of three separate parts, erased the characters and added new layers of paint to it. Then I came down," he recalls.
"We moved the ladder, and I climbed up to repeat the revision many times. I finished the corrections by dawn. It was only few hours before the ceremony."
Zhou was among the crowd of people who attended the founding ceremony.
"I saw the portrait from afar. It looked OK. Then I heard other people saying the painting was good. At that moment, I felt reassured and happy."
In 2008, he painted a watercolor that re-creates the scene of him and Chen working on the Mao portrait. The painting is part of the current exhibition.
Designing the banknotes of the second series of renminbi in 1951 was another achievement in his career. He was one of three artists from the Central Academy of Fine Arts who worked on the project with staff members of the Beijing Banknote Printing Factory, which is now the Beijing Banknote Printing and Minting Corp.