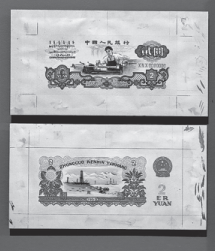 The show features banknotes of which Zhou was the chief designer.[Photo by Jiang Dong/China Daily]
"He could have bragged about working on such major projects. But he didn't."
Despite his long and successful career, Zhou remains modest.
"People call me a painter, but I'm just a teacher," he once said.
Zhou joined the faculty of the Central Academy of Fine Arts in the late 1940s and worked there for several decades.
To celebrate this centenarian, the institute is holding the Art for a New China exhibition, which runs through Oct 7. This coincides with events marking the 70th anniversary of the founding of the PRC this year. Drawings, photos and texts about Zhou's participation in the design of New China's symbols are at the heart of the display.
Zhou inherited an interest in art from his mother, who was a painter. He began to receive formal art training at age 14. During the War of Resistance Against Japanese Aggression (1931-45), he joined a performance troupe that traveled in the country calling upon people to fight for national salvation. He designed stage art and performance posters at the time.
He was known to be quick in conceiving and executing paintings during his early days at the Central Academy of Fine Arts.
Zhou, then 30, was selected to paint Mao's portrait some 20 days before the founding ceremony. He recalls that, because the portrait was 6 meters high and 4.6 meters wide, Zhou, and his wife, Chen Ruoju, who's also an artist, worked with the help of a scaffold kept outside the rostrum's gate, and they climbed up and down and walked far away to monitor the work's progress.
The portrait was based on a well-known black-and-white photo taken by Zheng Jingkang that shows Mao smiling while wearing a hat, with his head slightly turned to one side.