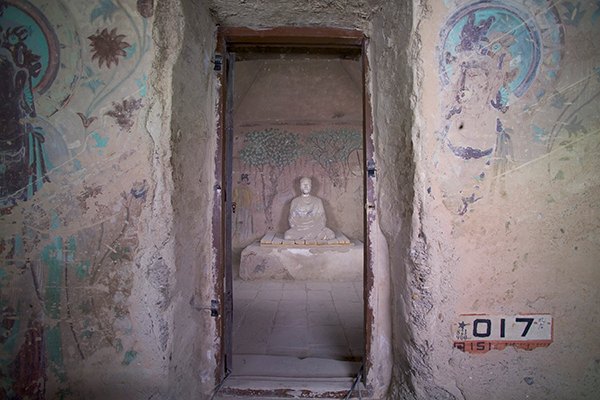 Cave 17 is home to about 60,000 ancient documents.[Photo provided to China Daily]
Dunhuang Academy's first full-time foreign researcher is helping to bring the magic of Mogao to the world, Wang Kaihao reports in Dunhuang, Gansu.
In 1987, Neil Schmid, then an undergraduate studying Chinese language at Georgetown University in Washington DC, traveled to Dunhuang, Gansu province, for the first time.
When Schmid finally arrived at the Mogao Grottoes, he was enthralled.
In front of him, 492 caves filled with murals and statues spanning the fourth to 14th centuries unveiled Chinese history, as well as the story of the Silk Road. More than half of the carvings were created during the Tang Dynasty (618-907), a pinnacle of social prosperity during imperial times.
"It's so complex, and thus it's so interesting," the 56-year-old American Sinologist tells China Daily in his office in Dunhuang. "I immediately fell in love with them."
That same year, the grottoes were inscribed on the UNESCO World Heritage list, as one of the earliest Chinese entries.
Schmid first heard of Mogao when he participated in a student-exchange program in Taipei.
"There were no photographs, and we only had edited texts," Schmid recalls. "So, I decided to go there myself."
He dug deeper into his study of Dunhuang in the following years. He took courses at Tokyo's Waseda University and L'Ecole Pratique des Hautes Etudes in Paris, before earning his PhD from the University of Pennsylvania. He has since taught in universities all over the United States, including Duke University, the University of North Carolina and University of Pennsylvania.
After Schmid had returned to Dunhuang for numerous academic exchanges, Wang Xudong, who was then director of the Dunhuang Academy, the research and management institution of the site, asked: "Why don't you just join us?"
"I was very touched and honored by the unique opportunity," Schmid says, smiling. "It's like a kind of yuanfen (destiny)."
Last year, Schmid became the first full-time foreign researcher in the history of the academy.