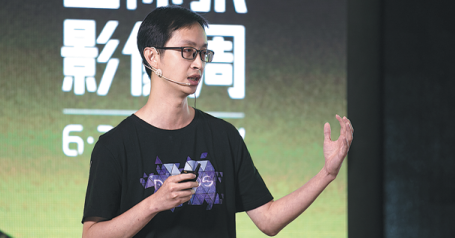 Lin Shixian, producer of Nostos, talks about how his team designed the VR game for NetEase. [Photo provided to China Daily]
Game ready online
Lin Shixian, 37, producer of Nostos, shared the story of how his team designed an open-world multiplayer VR game for NetEase.
"Most computer games put players into an enclosed space, waiting for the enemies or zombies to fight, but since VR can immerse audience into an entire world, we think that the player should be able to walk along and interact with other players," says Lin.
Nostos builds a post-apocalyptic oriental world featuring breathtaking natural environments inspired by the classic Anime style. Players can explore the mysterious world around them as it nears the end of its days.
Lin has 10 years' experience in game development, especially in multiplayer online games. He says it's more difficult to tell a story in a VR game because the players cannot be controlled as they can move around freely.
"So we design several characters and set different goals for each character to lead them to explore the world," says Lin. "It's an open world, so there are more stories for us to write."
The team started designing the game in 2017, and it made its Western debut during the Gamescom show in Cologne, Germany in August. Its first demo attracted more than 800 VR players.
According to Lin, the game will be released worldwide at the end of this year.
Yue Li, industry analyst at Greenlight, a VR and augmented reality market intelligence company, says according to their annual industry report, in 2018 there are around 9,900 XR offline experience stores worldwide. The number will likely increase to 26,000 by 2023.
"The offline XR stores include a VR experience store, cinema, theme park, arcade game store and entertainment center, and in China, we have around 5,400 in 2019," says Yue. "We believe the number will increase to more than 10,000 by 2023."