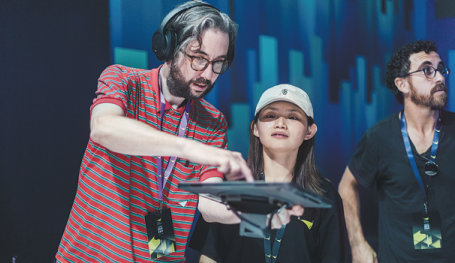 Visitors of the Sandbox Immersive Festival get a taste of virtual reality during their visit to the event that was held in Qingdao, Shandong province last month. [Photo provided to China Daily]
The first one digitized by Noitom is the classical Peking Opera, San Cha Kou (The Crossway). Dai's team invited two nationally acclaimed Peking Opera actors, Hu Xiaomao and Li Jichun to perform the piece dozens of times and captured their actions and facial expressions.
According to Dai, there are 42 scanning points to capture actors' facial expressions, and the computers will then synthesize them into digital images.
"Even for the beards used in the operas, there are a couple dozen types of them, and we hope to record as much as we can to make an encyclopedia of Peking Opera," he says.
Dai says recording all the elements is the first step. The next step is to use the materials to interact with the audience, especially the younger people, thereby attracting them to the intricacies of Peking Opera to ignite passion for the old art.
"Beyond the Eye is a trial project and we hope to get the audience immersed into Peking Opera, through an experience they could not get by watching on TV screen or off the stage," says Dai.