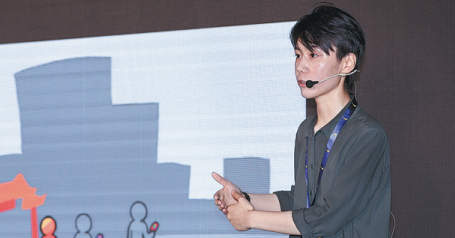 Liu Chengyang introduces Beyond the Eye, part of a three-year effort to digitalize Peking Opera with VR. [Photo provided to China Daily]
Peking Opera gets renewal
One project attracted widespread praise and was appropriately titled Beyond the Eye.
Liu Chengyang, presenter of the project, says it shows characters in the VR film walking each day with their eyes glued to their smartphones.
Their life is in black and white. But when they happen to be distracted from the phone, they step onto a beautiful, traditional Peking Opera stage to interact and engage with the performers in vibrant colors.
According to Liu, this VR film will allow people onto the stage to see how Peking Opera performers act.
The VR film is to be made by Noitom, a technology company that focuses on motion capture. Dai Ruoli, 40, co-founder and CTO of Noitom, says it's part of their three-year project to digitalize Peking Opera with VR.
"Our goal is to digitalize all elements of Peking Opera, including the opera plays, theaters, costumes, props, instruments and the performers," says Dai.
"Last year was the first year of our project, and we tried different technologies to record the opera and the stage, and this year we are using the most appropriate technology to record more elements."