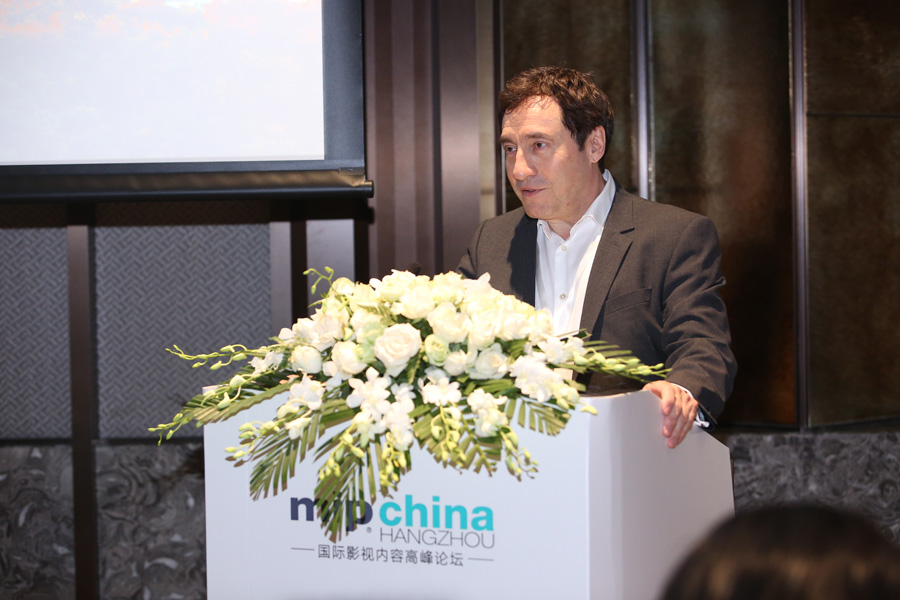 Ted Baracos, MIP China director, gives a speech during the MIP China Hangzhou International Content Summit on June 5. [Photo provided to China Daily]
"I've heard of one incident where a Chinese company spent a lot to market their shows at an MIP event in Cannes several years ago, but unfortunately, they hired a tour guide to translate in an important meeting. As the guide knew little about the TV and movie industries, the meeting ended up being a disaster," Chu recalls.
Pablo Meng, head of international cooperation with the Beijing-based Hengxin-Shambala Culture, echoes that his company's preschool TV show Kiddets, the first official China-New Zealand coproduced animated series, was the first to have qualified bilingual coordinators among the crew. This is because a lot of animation productions involve technical and creative jargon that can be ambiguous and esoteric, and often prove to be too difficult for ordinary translators to grasp.
He touched on many aspects of the coproduction process, including the need to prepare a lot of extra material, such as seasonal animation style guides, director's acting reference videos for each episode, verbal notes for each shot and subsequent iterations in order to cover the gaps in culture and language-all to ensure that the whole team was on the same page, creatively.