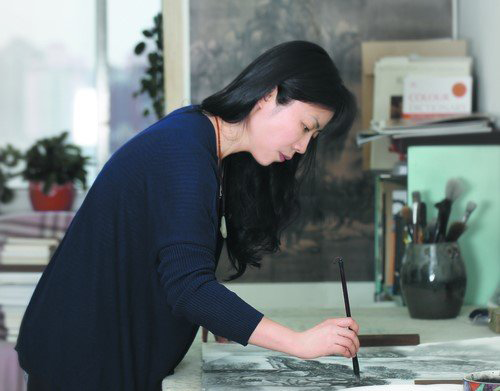 Dong Qi executes an ink painting. [Photo/China Women's News]
Dong tries to make every stamp perfect because of her deep love of the art. When she worked on the Beijing Alters and Temples stamp works, she paid several visits to temples in Beijing and she took a number of photos of the architecture from different angles, to show the magnificence of Chinese imperial buildings.
Thanks to her sustained effort and outstanding skills in painting, design and engraving, Dong's engraved stamp works Year of the Pig, which are based on the paintings of acclaimed Chinese artist Han Meilin, perfectly embody the unique charm of stamp engraving. She has won thumbs-up from professionals and stamp collectors.
Bringing Stamp Engraving to More People
Although China introduced stamp engraving intaglio 110 years ago, there was no monograph about the technique in this regard. To arouse people's awareness of the art and to familiarize more people with artists in this field, Dong took three years to complete the book Engraving Times — the Oral History of Chinese Stamp Engraving Intaglio, narrating the stories of stamps and experiences of stamp engravers, designers, collectors and researchers.
"Stamps document the process of our nation's development. It's my honor to tell the stories to everyone by tiny stamps," she says.