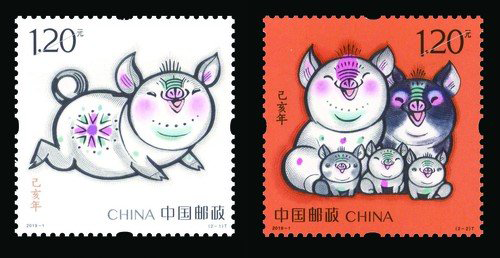 The special stamps of the 'Year of the Pig' released in 2019. [Photo/China Women's News]
A New Start at the Age of 29
Dong spent her early years in Northwest China's Xinjiang Uygur autonomous region. At the age of 29, she was temporarily transferred to Beijing for a one-year advanced training program at the Postage Stamp Printing Bureau of China. The year marked a new start in her life.
Dong had worked at Xinjiang Post Office for philatelic work for six years after graduating from university. In 2005, she was dispatched to the Postage Stamp Printing Bureau of China Post Group.
In that year, Dong learned from senior engravers who helped her greatly improve her artistic design. Later, she was lucky to stay and join the Postage Stamp Printing Bureau where she strove to become an outstanding stamp engraver.
"To be a stamp engraver requires professional knowledge and a passion for stamps, as well as great concentration. Indeed, I meet all these requirements because I enjoy engraving stamps so much," she says.
Dong was well trained at the Bureau. She apprenticed to Hu Zhenyuan and Li Defu to learn stamp engraving and traditional Chinese ink landscape painting. She studied at the Chinese National Academy of Arts for design art; she also participated in the training course jointly organized by China Post Group and Post Danmark with the world famous stamp engraver Martin Morck as the instructor.
"It was beneficial to learn from Martin Morck and Chinese stamp-engraving professionals, though they adopt different pedagogic approaches," Dong says.