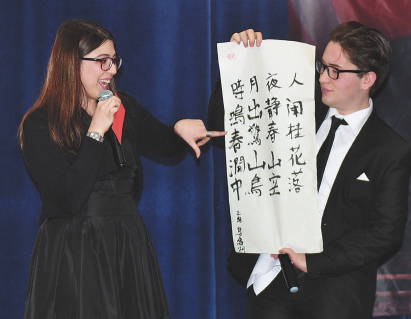 Turkish college students celebrate Spring Festival in Istanbul in February 2018. One of them wrote in Chinese calligraphy a poem which was created in the Tang Dynasty (618-907). [Photo by He Chanling/Xinhua]
The tangible developing results of the Belt and Road Initiative and closer cultural ties will generate momentum in the fields of people-to-people exchanges and two-way investment between China and Turkey this year, government officials said.
Chinese investment in Turkey surged by 120 percent over the past years, with nearly 1,000 Chinese companies such as Power Construction Corp of China, Huawei Technologies and China Railway Rolling Stock Corp now operating various businesses in Turkey, while the number of Chinese tourists visiting Turkey increased by over 60 percent to nearly 400,000 in 2018, data from the Ministry of Commerce and Ministry of Culture and Tourism show.
The BRI, a connectivity and people-to-people interactions project, has ignited new waves of development and business interests for countries and regions related to the initiative, including Turkey, said Emin Onen, Turkish ambassador to China.
Jiang Yiyi, director of the China Tourism Academy's International Tourism Development Institute, observed "a noteworthy change of perception" among Chinese tourists amid stronger diplomatic and economic ties between the two countries.
"A growing number of Chinese visitors are searching for high-end products and new services in Turkey," she said, adding besides cultural tours, health tours and golf courses are becoming fairly popular among Chinese travelers, as well as purchasing luxury goods.
With 2018 marked as Turkey Tourism Year across China, cultural exchanges between the two countries have been intensified, Jiang said, adding Turkey still has more potential to offer services that can attract tourists not only from China, but also other Asian countries.
Eager to attract more Chinese visitors and introduce the country, Turkey has made extensive preparations to leave its mark at the upcoming 2019 International Horticultural Exhibition to be held in Beijing by showcasing different features of its culture.
Starting on April 29, the 162-day expo in Beijing is poised to impress an expected 16 million visitors from home and abroad with a huge collection of plants, flowers and eye-catching pavilions, as well as ideas for green development.
The Turkish pavilion was built over an area of 2,400 square meters, consisting of nine different parts, said Tarik Sonmez, commissioner general of the Turkish section of the expo.
An innovation space, a tunnel of endemic plants, as well as medicinal and aromatic plants, and a garden featuring replicas of the private terraces of the Ottoman Sultans are among the displays inside the pavilion.
"I believe all of these activities will contribute to Turkey's tourism in a significant way," Sonmez added.