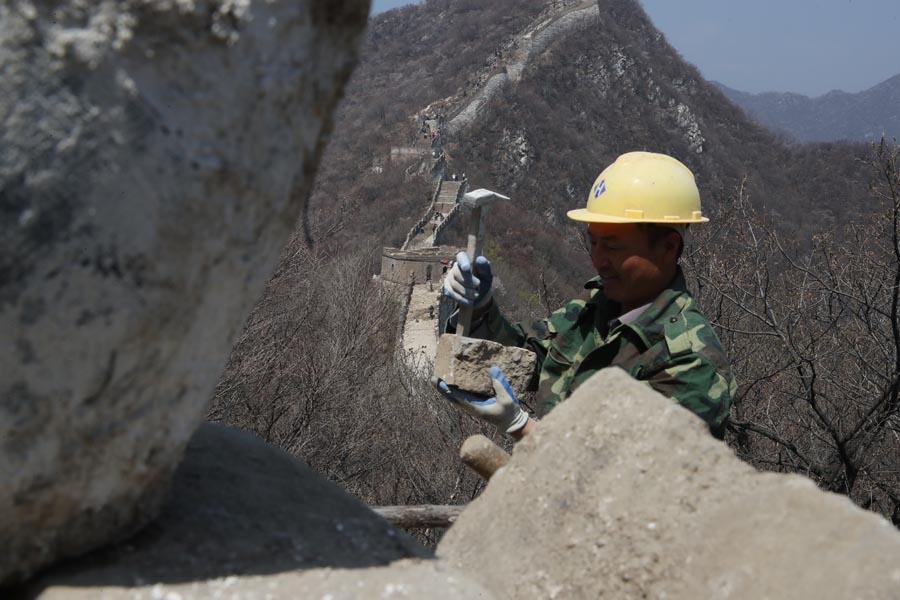 A restorer checks an old wall brick [PHOTO BY JANG DONG AND WANG KAIHAO/CHINA DAILY]
A brick specially made for restoration of the Great Wall sells for 16 yuan ($2.4), but it costs double that by the time it reaches the top of Jiankou by truck, tractor or mule. Plus, to control the quality of urban air, making such bricks in traditional ways is no longer permitted by environmental authorities in Beijing. These bricks have to be made in other provinces.
Having seen parts of the wall destroyed by rain water before, Cheng says his team decided to partially retain some areas of rubble.
"The water will gather again at the same spot," he says. "What we need to do is to make way for it to flow out smoothly from the wall. We need to adapt to nature during the restoration."
Water is the main enemy of the Great Wall.
"If water leaks into the wall through the cracks and stays there, it will become ice in winter and break the bricks," Cheng says.
Restorers have to fill the cracks one by one, using a traditional material of lime mixed with sticky rice.
Another major concern is the vegetation growing on and along the wall, which is considered a threat to the stability of the construction. But the restorers often debate if the greenery should be removed.
"If there was a tree growing on the roof of the Forbidden City, would you just leave it there?" Zhao Peng, an architect at the restoration site, asks, jokingly perhaps.
"We were undecided for a long time," he says. " But we are keeping most of it as long as the wall's foundations aren't disturbed."