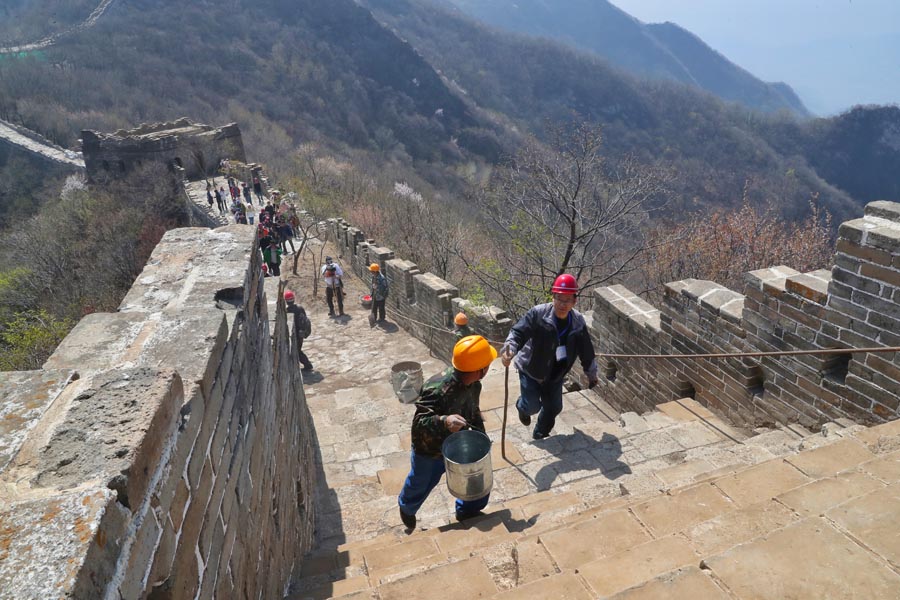 Members of a restoration team climb up the Jiankou section of the Great Wall. [PHOTO BY JANG DONG AND WANG KAIHAO/CHINA DAILY]
Li, a leading bricklayer in the project and a local villager in Huairou, has worked on the restoration of the wall for the past 15 years.
"In the beginning, I didn't consider repairing the Great Wall any different from any other restoration work. It was good as long as we could make some money, but now I don't see it as a general project," Li says. "The work here is demanding in terms of details."
Old facade
Unlike other famous sections of the Great Wall in Beijing that also date back to the Ming Dynasty, such as Badaling and Mutianyu, Jiankou may not be for the passing tourist. Bilingual warning signs asking tourists not to climb this section are seen in nearby villages. Jiankou has never been officially opened up to tourism. But its wildness draws many outdoor sports enthusiasts, despite the risks of accidents.
Tang Wujun, a member of an emergency rescue team stationed in Huairou for the last 14 years, who is in charge of helping any adventurers in trouble, says: "In the past, outdoor enthusiasts were everywhere as long as it was a clear day. After the restoration began, that number has gone down."
Tang says he likes the idea of adventure through the wild parts of the wall but he also knows that unless they are repaired, some parts will disappear forever.
When the first phase of the restoration began in 2016, many netizens posted their regret about losing this "wild side" of the Great Wall. They also had reasons to doubt the work.
That year, a similar section of the Great Wall in Suizhong county, Liaoning province, became infamous after an outdoor enthusiast posted a picture of some restoration work online, in which a damaged area was shown to be roughly paved with cement. This triggered anger online and led restorers to ask themselves if they needed to preserve the original facade of the Great Wall.
"What is the original facade? How it looked during the Ming Dynasty, or the wall's appearance just before the restoration?" asks Song Xinchao, deputy director of the National Cultural Heritage Administration.
"The Great Wall is a witness to Chinese history and a key landmark in the collective memory of Chinese people. If the look of the wall is changed, memories of the younger generations will also change," Song says.