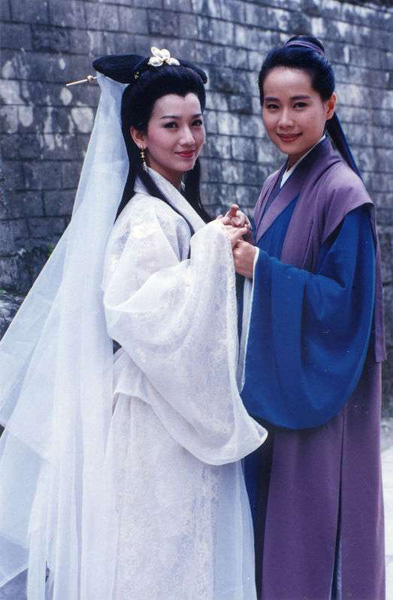 The 1992 TV series, New Legend of Madame White Snake, produced in Taiwan, has become an unsurpassable classic in the eyes of many generations of cross-Straits viewers. [Photo provided to China Daily]
Cecilia Yip, the Hong Kong actress who offered her cross-gender performance 27 years ago for the role of Xu Xian, also gets a role in this web drama, playing Xu's mother. Maggie Chan, another Hong Kong actress who plays Xiao Qing, a green serpent transformed into a woman in the old series, acts in the remake as Xiao Qing's mother.
However, the adaptation did not please all. A netizen on Douban says: "How could this series make so many changes using the name of such a classic?" The comment has got most "thumbs-up" so far. Another netizen jokes: "With the special effects, the new drama is like an online video game."
"Everyone in the crew told me about the pressure due to our previous version. People who watched it will surely judge this new series." Yip says. "However, new generations of audiences will come under its spell. I told the crew: Be yourself. It's unnecessary to try to find favor with everybody."
Wang Xiaohui, chief supervisor of original content at iQiyi, says The Legend of White Snake pays homage not only to a classic drama, but also to cultural traditions.
"We've seen so many typical figures reflecting Chinese traditions in the story," Wang says. "That urged us to look for more inspirations from the treasure trove of ancient Chinese culture."
He points out Chinese mythology on screen still lacks "a universe", which is often seen in Western counterparts.
"We see many individual characters," he says. "However, when making this project, we're wondering whether we can establish a universe of Chinese mythology, which advocates Eastern aesthetics."
Dai says a sequel and a prequel are being developed. "We also find the possibilities mixing in more elements of traditional Chinese culture," she says. "So, we're mapping out how to connect main characters in Chinese mythology together."