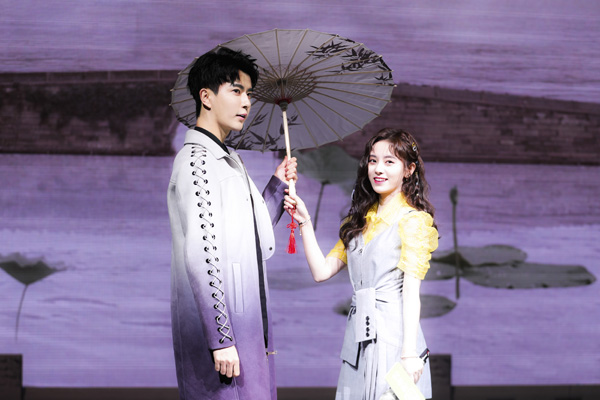 Ju Jingyi (right) and Yu Menglong, the main actor and actress of the web drama The Legend of White Snake, appear in a recent promotional event in Beijing. [Photo provided to China Daily]
"However, Bai Suzhen, a figure who deliberately pursued her own love rather than being passive in a relationship, is an exceptional heroine in ancient Chinese mythology," she says. "And the story can be naturally accepted by people today."
Still, as Dai knew clearly, changes had to be made to meet modern tastes.
Casting was critical. Actress Ju Jingyi, 25, and actor Yu Menglong, 31, who are both steeped in the traditions of historical dramas, were the final choice after a three-month process.
"The 1992 version still reflects the morals of the ancient times, and some may seem out-of-date," says Zhi Lei, the remake's director. "We have to add new values."
In the original series, facing pressure from orthodox values, Xu Xian chooses to escape from the relationship. Zhi reveals that the ending of the new series will be changed to better echo young people's views today.
And when the heroine transforms from a snake to a human in the 1992 version, she turns into a sophisticated woman. However, in the remake, she is young and innocent as her role evolves in front of the viewers.
"The core value of the story, namely eternal love, will never change," director Zhi adds.
For the crew handling such an old folk tale, which may have influenced generations of Chinese people's ideas on how to select spouses, telling the tale of the new version posed difficulties.
Yang Tao, one of the screenwriters for the new series, explains the rules she wants to tell today's young people regarding relationships: "Fidelity, faith, continuous desire to know each other, and compromise, when necessary."
It took more than two years to prepare the script.
"There are legacies in the remake," she says. "But we need to surprise as well."
The production team borrowed widely-acclaimed elements from the 1992's edition.
For example, some original songs from the old series can probably be heard at almost every Chinese karaoke party. These classic melodies are also used in the remake.