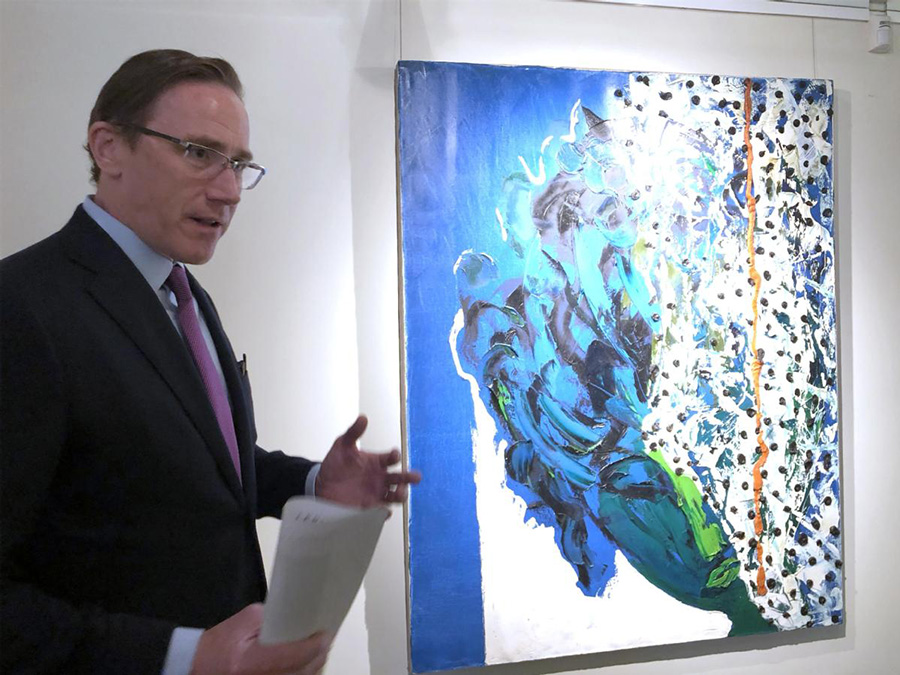 Frederick Stirling Clark, vice-president of Findlay Galleries in New York, introduces a painting by contemporary Chinese artist Liu Shuishi to visitors at an exhibition in New York on March 19. KONG WENZHENG/CHINA DAILY
Global demand has grown rapidly in past decade
Frederick Stirling Clark, director of a gallery on Fifth Avenue in New York, was asked what impressed him most about Chinese artist Liu Shuishi's work.
Clark had no hesitation in saying it was the paintings' sense of universal humanity and globally understood thoughts that immediately shone through.
"Liu tends to draw from very deep and universally understood ideas or thought processes," said Clark, vice-president of Findlay Galleries, which has exhibited Liu's paintings.
"His works are very universally human, and I think that, particularly in New York, this kind of universal and very large world view is helpful because collectors want to have a global vision," Clark added.
Liu was one of many contemporary Chinese artists represented by galleries in New York last month during Asia Week, the city's largest event focusing on Asian art. This year, more contemporary Chinese artists have come under the spotlight with their global appeal.
Margaret Tao, executive director of Asia Week New York, said, "We definitely have more contemporary art this year, both in terms of people specializing in it, but also those who have some contemporary art along with their classical pieces."
Zhang Xiaoming, a former vice-president of Sotheby's who headed its Asian Modern and Contemporary Art Department in New York, said she is very positive about the future of contemporary Chinese art and the galleries exhibiting it.
"I think those galleries are helping these artists to not only open up a market in a business sense but raise awareness of their work," Zhang said.
In the past decade, global demand for contemporary Chinese art has grown dramatically. In September, Chinese-French artist Zao Wou-ki's work Juin-Octobre 1985 sold for a record $65.2 million at Sotheby's in Hong Kong.
The Los Angeles County Museum of Art, the largest art museum in the western United States, has just announced the purchase of contemporary Chinese artist Zeng Fanzhi's painting Untitled (2018) for its permanent collection. The work is part of Zeng's series of abstract landscapes.