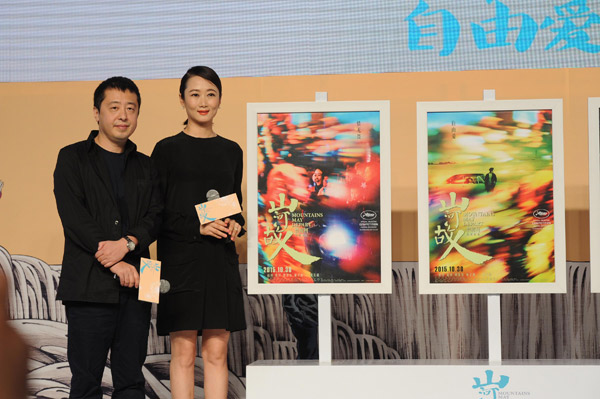 Jia Zhangke, a key figure in China's "sixth generation" of filmmakers, attends the launch event for his film Mountains May Depart, Still Life, with his wife and lead actress Zhao Tao. [Photo provided to China Daily]
Focusing the camera on people's issues and giving them a voice mark NPC deputy's creative approach to plotlines
For Chinese filmmaker Jia Zhangke, the role of a deputy to the National People's Congress has given him a wider horizon, and an even deeper understanding of people and society.
Jia, an essential figure in China's "sixth generation" of filmmakers and one of the country's most inventive and engaged directors, has also found similarities between filmmaking and working as a lawmaker.
A native of Linfen, Shanxi province, Jia has long concerned himself with the effect of enormous social and economic forces on the experiences of individuals.
He has garnered numerous international awards and critical acclaim for a number of his films over the past 10 years with works including Mountains May Depart, Still Life, and A Touch Of Sin.
"As an NPC deputy, you should also focus on the public livelihood, stay in close touch with the people in the grassroots and make their voices heard," he said.
"I once joked that I have never been on such a macro-perspective as right now."
The role of a lawmaker, he said, is not only about the annual NPC session held in March each year.
"It lies more in your research trips during your daily jobs and about the industry as a whole. You also assume your duty in your everyday life," he said.
Last year, the 49-year-old was elected as an NPC deputy representing his home province of Shanxi, where he found the inspiration and shot his first films, including Xiao Wu, his award-winning student feature about a pickpocket.
Jia's latest enthralling feature, Ash Is Purest White, is also set in the coal city of Datong in Shanxi province.
The film grossed box-office takings of about 70 million yuan ($10.4 million), a record for his movies.