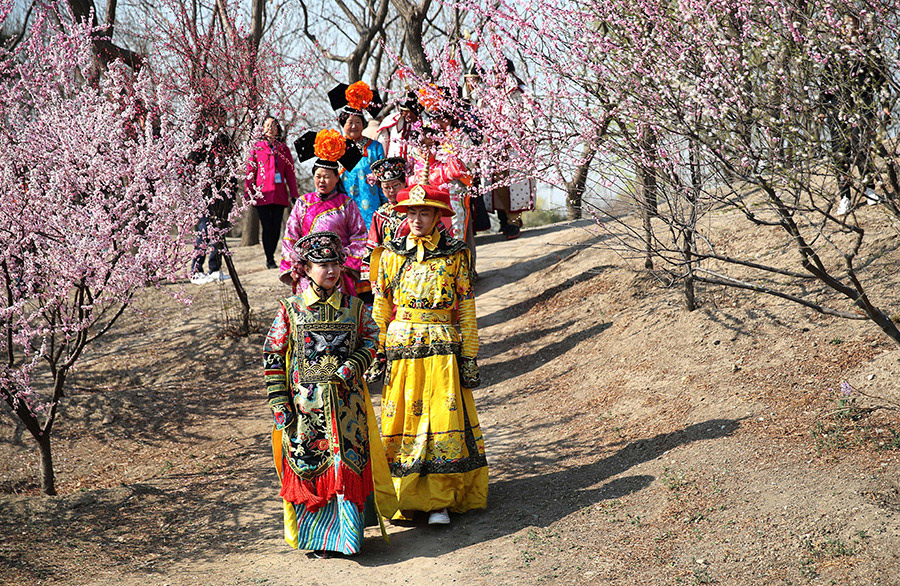 Some scenarios of spring excursion in ancient time will be demonstrated during the Spring Excursion Festival. [Photo by Zou Hong/chinadaily.com.cn]
Beijing's 24th annual Spring Excursion Festival of Yuanmingyuan Ruins Park opened April 3 and will run until May 15.
More than 1,000 clove trees, 20,000 square meters of peonies, as well as plums, peach blossoms, and begonias are now in bloom in the park.
Yuanmingyuan, or Old Summer Palace, was a former imperial resort during the Qing Dynasty (1644-1911), which was destroyed by a fire set by invading Anglo-French forces in 1860.
During the festival, exhibitions showcasing the Qing Dynasty's history and culture will be held across the park.
Historical sources show that playing on swings in springtime was popular with maids in Yuanmingyuan during the imperial years, so swings have been set up around the park, one of a number of interactive installations.
Public lectures on calligraphy, ornithology, and archaeology will also be held in the park during the festival.