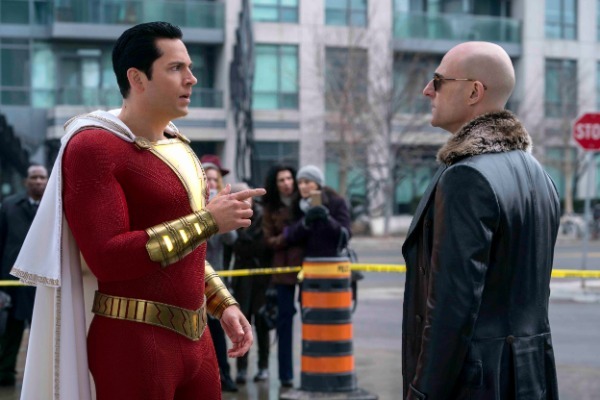 Still images from Shazam!, a movie adapted from one of DC Comics' most popular superheroes of the 1940s, which depicts a 14-year-old who inherits a wizard's power to transform himself into a god-like adult, played by Zachary Levi. The upcoming film also casts Mark Strong and teen actor Jack Dylan Grazer.[Photo provided to China Daily]
Zachary Levi promotes Shazam!, a less well-known superhero story, in China, Xu Fan reports.
American actor Zachary Levi, now 38, was handling two challenges last year - figuring out how to "become a 14-year-old" and "being a superhero".
They are Levi's main acting jobs in the upcoming film Shazam!, adapted from the story of the DC Comics superhero in the United States, popular since the 1940s.
Directed by David F. Sandberg, the story centers on a fictional streetwise teenage boy named Billy Baston, who is chosen by an ancient wizard to inherit the latter's mysterious powers.