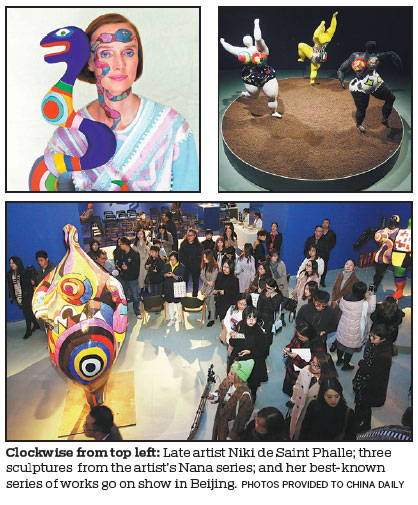 The works of a legendary French-born and American-raised artist who is widely recognized for her monumental sculptures are currently on show in Beijing for the first time. And this is probably in keeping with the way she felt.
For Niki de Saint Phalle (1930-2002) once said: "I'm condemned to show everything. That is my task."
The former fashion model and housewife found her true identity in teaching herself to paint and to sculpt, and created an oeuvre of works that are full of energy and hope.
Her works have won the hearts of people of different cultural backgrounds and ages, not only for their explosive color schemes and rich emotions, but also because she shares with them a take on life with courage and curiosity.
She also said: "My work has always been my way of expressing my problems and then exorcising them."
An exhibition of Niki's works, which is on at Beijing's Today Art Museum through Sunday, presents the scope and depth of her art, as well as of her spiritual world.
Her pursuit of freedom and social equity, her concern for all living creatures and her feminist views are fully evident in the several of her most well-known works.
Niki's works reflect a personal way of dealing with traumatic childhood experiences, health problems and social conventions imposed on her as a woman, with the healing power of creating and coloring.
Bloum Cardenas, the artist's grandchild and a member of the board of trustees of the Niki Charitable Art Foundation, says: "We always say Niki was like a phoenix reborn rising from the ashes. Whatever crises of life she went through, she would come out even stronger and fearless."
Niki was born to an American mother and a French father who lost his wealth in the Great Depression. She was sent to the United States at the age of 3. There, she coped with a tense environment at home and rebelled against the strict rules her family wanted her to follow.
"As a young girl, she was quite an example of strength, will power, determination and creativity, even though she looked fragile," says Cardenas.
Later, Niki modeled for fashion magazines. At 18, she eloped with and married Harry Mathews, her childhood friend.
She later taught herself art. But Cardenas says that although she did not attend art school, she saw more art in real life than many who were studying in art institutions. This was because she went to villages and towns, however small they were, to view artworks and meet artists.
"She was always reading. She was curious," says Cardenas.
"'Curious' is the best word to describe her. She didn't care about conventions. She managed to achieve what she wanted to do, like a bulldozer, even if it annoyed people."
Niki's works showcase her contradictory, complex sides, which evoke shared feelings in the audience, often giving them courage and strength.
"The choices she made were often radical," says Cardenas.
"Like many artists, she had contradictions in her character. She could be sweet and sometimes she could be hot-tempered."
Cardenas says that in Niki's works, there are a lot of fairy tales featuring monsters, dragons and heroes, and there are obstacles too - just as in life.
She says Niki tells people that dealing with one's fears, instead of pretending they do not exist, is a very important course people should take in life.
Cardenas remembers when she was a little child, her grandmother often read her scary stories.
"She loved to scare me, and other children. But it was fun.
"She always said it was very important to learn to be afraid, so you would know the difference between a good fear and a bad fear; fear taught you things and let you know how to develop a sense of security. It was very inspirational to have a woman like her around."
The exhibition recreates a small part of the Tarot Garden, an outdoor sculpture garden in Tuscany, Italy. Work on the building began in the late 1970s and continued up until her death.
It is a fantasy land filled with imaginative, monumental sculptures through which the artist visualized her happiness, fear and determination, and shared them with the world.
Cardenas says the Tarot Garden was at the heart of her grandmother's life who was very serious and thorough in her approach to her work.
"She had two families, one was of her own and the other was the family she built with people who worked on the construction of Tarot Garden. They were close and strong. It is moving to hear people who worked for her saying Niki was family.
"I'm spoiled because I'm part of both families."
Cardenas says there is so much going on culturally in China that each time she comes to Beijing, she discovers new artists whose works she wants to add to her personal collection. She says her grandmother would have joined her if she were alive.
"Niki always said you needed to go where people wanted you, where you were desired."