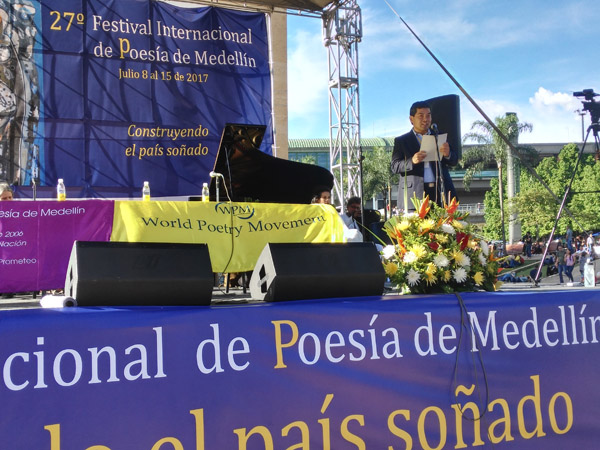 Sun speaks at the opening ceremony of the Medellin International Festival of Poetry in Colombia in 2017. [Photo provided to China Daily]
Under Sun's guidance, more than 100 events have been hosted at local branches of the institute and associated places, as well as international poetry festivals and book fairs.
Also, Chinese writers have visited local writers' associations, libraries, publishers and universities, delivered lectures and had interactions with local writers and scholars.
Additionally, Sun gets Sinologists to translate and publish contemporary Chinese literature in Latin America.
For example, since 2012, he has supervised the compilation of a series of outstanding contemporary Chinese literary works.
Thanks to his efforts, works by Chinese writers, such as Li Jingze's Qingniao Gushiji (Blue Bird Story Collection); A Lai's Fairy Circle; and Selected Contemporary Chinese Poems, have been translated and published in Chile, Colombia, Argentina and Peru.
In November, Chinese writer A Yi, at Sun's invitation, went to Chile and Argentina for 28 days, and communicated with local writers, Sinologists, critics, scholars and readers.
A Yi says he was surprised to see how well-connected Sun is in the local literary circles.
"He is a contemporary Zhang Qian," A Yi says of Sun.
Zhang was a diplomat, adventurer and explorer of the Silk Road in the Western Han Dynasty (206 BCAD 24).
Now Pablo Rodriguez, a Chilean Sinologist, is translating A Yi's collection of short stories into Spanish, and it will be published in the second half of this year.
In recent years, the learning of Chinese has become increasingly popular in Latin America. As China grows economically powerful, trade and communication between China and Latin America is also growing.
Last year, 41 Confucius Institute branches in Latin America offered nearly 3,000 classes with more than 50,000 people registering to study tai chi, kung fu, calligraphy, papercutting and Chinese cooking.
Sun sees literature as the key, saying: "Contemporary Chinese works are one of the most important channels for foreign students to study the Chinese language and culture."
In the last five years, a growing number of Chinese literary works have been published in Chile, such as Mai Jia's Decoded, Liu Cixin's The Three-Body Problem and Lu Xun's Kong Yiji and A Madman's Diary. Both Decoded and The Three-Body Problem sold more than 5,000 copies each.
As for the future, Sun says: "We need to introduce more Chinese writers and their works to Latin America … But the key is to nurture more Latin American Sinologists and translators."
Contact the writer at yangyangs@chinadaily.com.cn