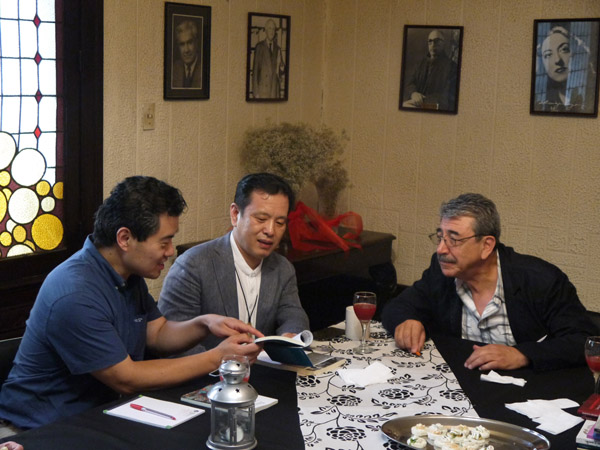 Chinese writer Li Jingze (center) talks with Roberto Rivera (right), president of a Chilean writers' association. [Photo provided to China Daily]
In China, Gabriel Garcia Marquez's One Hundred Years of Solitude, translated by Fan Ye and published in 2011, has been on bestseller lists for years, and Nobel laureate Pablo Neruda is a favorite of many Chinese. Also, Roberto Bolano's 2666 inspires empathy in many Chinese readers. Not to mention, how influential they are to contemporary Chinese writers like Nobel laureate Mo Yan.
In August, Chilean writer Paulina Flores was invited to the Shanghai Book Fair to interact with Chinese writers and readers as the Chinese translation of her debut work, Que Verguenza (Humiliation: Stories), was published in the country. Also that month, the Chinese version of Bolano's novella By Night in Chile was released.
When Chinese writers deliver speeches in Latin America, they name many local writers, but comparatively, Latin American readers know very little about Chinese literature, says Sun.
"Even scholars and writers-their knowledge of Chinese literature is limited to ancient classics such as The Art of War and Tao Te Ching, and ancient Chinese poets like Li Bai and Du Fu. They cannot name a contemporary Chinese title," he says.
"It is largely because there are very few contemporary Chinese literary works translated into Spanish or Portuguese. Moreover, the quality of translation is not good enough because many of them are translated from English or French," he says.
"So far, Latin American publishers and readers have paid attention only to Europe, especially Spain and France, and North America, but with more knowledge of Chinese literature, Latin American readers will be able to understand Chinese culture better," he says.
It is a shame that Latin American readers don't have access to more contemporary Chinese literature, since this is one of the most important cultural sources with noteworthy achievements, he says.
However, in recent years, with Sun and his colleagues' efforts, things have started to change.
In 2013, Sun, who has been passionate about literature and translation since middle school, became the director of the Confucius Institute at the National Autonomous University of Mexico after teaching Spanish at university and translating Spanish literature for 10 years.
He then launched the program, "Lectures by Chinese Writers", to take Chinese writers and poets to various events in Latin America.
In 2015, Sun landed his current position and, since then, he has expanded the literary activities to more countries.
So far, the Confucius Institute has taken more than 30 Chinese writers and poets, including A Lai, Liu Zhenyun, Li Jingze, Mai Jia, Xu Zechen, A Yi, Lu Min, Hao Jingfang, Cao Wenxuan, Xi Chuan and Zhou Sese, whose works have been already translated into Spanish, to visit the region, "so that I can recommend their works to students at Confucius Institute branches and local readers", Sun says.