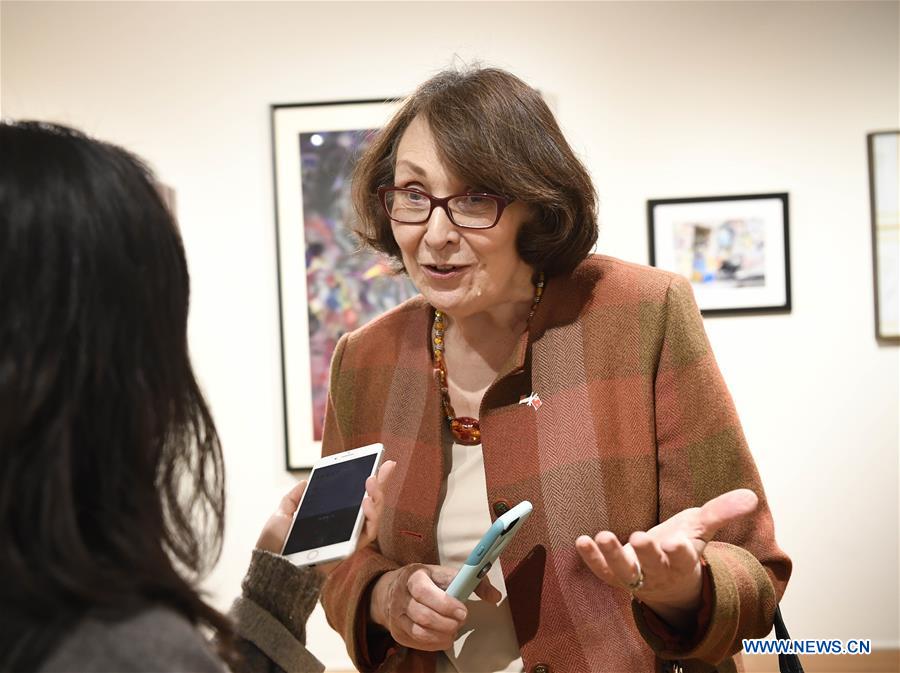 Betty McGinnis, president of the non-profit organization World Artists Experiences, is interviewed at the Maryland Hall for the Creative Arts in Annapolis of Maryland, the United States, Feb 5, 2019. [Photo/Xinhua]
A 13-year-old American boy's first lion dance performance was a bit different than usual. He held up the lion's head, his younger sister, brother and another little girl stood beneath the tail, and the four of them struggled to go in circles before losing the "tail" shortly after.
"It's so difficult because you really have to coordinate, you have to hold it up and blink and move, there are a lot of moving factors," the boy told Xinhua. "It was really cool."
The boy and his siblings from Odenton, Maryland, were joining hundreds at a Chinese craft demonstration at the Maryland Hall for the Creative Arts, located in the state capital Annapolis, on Tuesday, the first day of the Lunar New Year.
The mother of the three, Annette, who only gave her first name, told Xinhua they have done "a little bit of research" on lion dance before going to the event, and her son, who has learnt Chinese for three years, watched the Spring Festival gala at school to better understand the Chinese New Year.
Chinese artist Zhang Longze told Xinhua that the enthusiasm of local residents was way beyond his expectation. "So many people came. They don't just look and walk away, they asked me many questions, and I'm running out of name cards," he said.
Zhang presented exquisite paper cuttings, drawing "wows" all the time. When he started making cute clay animal sculptures at the scene, a couple of kids gathered at his table and kept staring at his hands, until their parents dragged them away to see something else.
While the kids were obsessed with clay pandas and dumplings, Jim Hodges and his wife Monica were taking a precious photos in clothes from the Qing Dynasty (1644-1911).
"It was so beautiful. I love the bright color and the embroidery, so beautiful," Monica told Xinhua after trying on a pink dress that was once worn by ancient Chinese literati.
The couple's daughter and son-in-law used to teach English in Guangzhou for a year, and Monica visited them during the Chinese New Year 10 years ago. "Lots of firecrackers, red lanterns, it made me kind of jealous that I didn't get to go," Jim said.