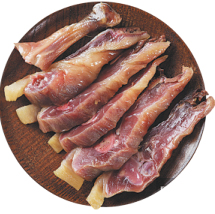 Cured duck drumsticks are marinated in sweet wine and spices, giving them a cheery cherry hue. [Photo provided to China Daily]
In Zhejiang province's Ningbo, a favorite New Year delicacy is a sort of ham with chopped pork stuffed into a pig's stomach and then cured in brine.
In Hubei, where there are plenty of lakes and ponds, preparation for spring must start with fishing for carp. Whole carp are salted and then hung up to dehydrate, but a good cured carp stays soft and supple for the New Year meals.
As we move further north, the nomadic influences come into play and the main ingredients change to beef and mutton, and the style becomes more like jerky.
Whole sheep are cured, and beef is cut and dried in easy-to-transport strips. Beef jerky is still the most popular for horsemen driving the flocks.
These days, however, they have become a favorite of the keyboard generation, who buy these spicy snacks from online supermarkets that deliver to the door.
Strips of cured meats or individually wrapped tiny cubes are bestsellers.
The Hunting Month may have slowly evolved into the curing month, but it is still part of a culinary tradition that's a prelude to the most-important celebration of the entire lunar year.