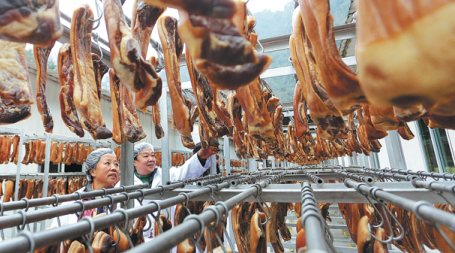 With rapid urbanization, the curing of the festive meats is now done in factories. [Photo by CHEN DONGDONG/FOR CHINA DAILY]
Another uniquely Cantonese cured product is a whole pig liver, which is hollowed out and stuffed with a piece of pork fat.
Surprisingly, this is not hard to eat.
The liver turns firm during the curing process, while the fat turns crisp and transparent. The Cantonese cook steams and then cuts these liver sausages into very thin slivers, serving them on slices of steamed arrowroot or yam.
More familiar are whole ducks that are spatchcocked, spiced and salted. The intensely savory birds will be a highlight on the reunion table on Lunar New Year's Eve. Surprisingly, chicken is cooked fresh and seldom cured in the southern regions.
Duck-thigh fillets are now more popular with the modern generation, as traditions change and the size of families shrink. These deep-maroon nuggets are easily cut up and even easier to steam, and there are no boney bits to contend with.
Further north, in Yunnan and Sichuan provinces, various cuts of meat are heavily seasoned and hung up to dry, ending up in stir-fries or simply steamed. Here, the meats are pickled with lots of chillies and Sichuan peppercorns.
Local sausages are also very spicy, and they leach a bright-red oil when fried, sending out a fragrance that is irresistible to the homesick Sichuan native.
Near the central plains and the lake regions just to the south, soy sauce is a major curing ingredient and sauce-cured strips of meat are already hanging up to dry in many backyards.
Poultry, such as ducks, geese or chickens, are also steeped in sauce.