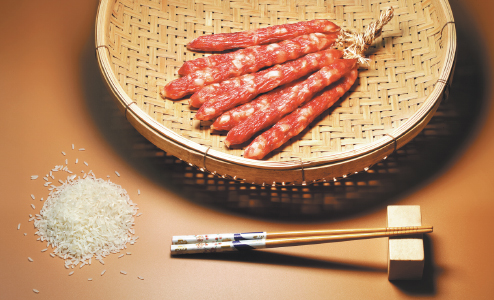 Rosy links of cured sausages are the harbingers of good cheer ushering in the new lunar year. [Photo by LU WEN/FOR CHINA DAILY ]
The last month of the lunar calendar used to be called the Hunting Month in more rustic times.
That was when traps were set in the wild to catch pheasants, rabbits, deer and wild boar in preparation for the rounds of feasting during the Spring Festival, just weeks away.
These days, wild game is not so easily available, and tamer options are preferred, although the meats are still cured and hung up to dry in the chilly winds. Layue has come to represent a time for preparing and curing meats, known as larou.
In spite of the urban spread of China's population, the year-end tradition of preserving meat is still very popular, with a variety of birds, fish and cuts of beef, mutton, and pork strung up in backyards and balconies to catch the winter wind and sun.
Let's start from the southern end of the country where Cantonese cured meats form elaborate displays at Lunar New Year markets.
Sausages are made from hand-cut belly pork and marinated in salt, plenty of sugar and quality Chinese yellow liquor, which tinges the links with that characteristic red.
This is also the time when fresh duck or goose livers are marinated in spices, sugar and liquor, and stuffed into intestines. These, unlike the meat sausages, are seasonal delicacies only available for a limited time.