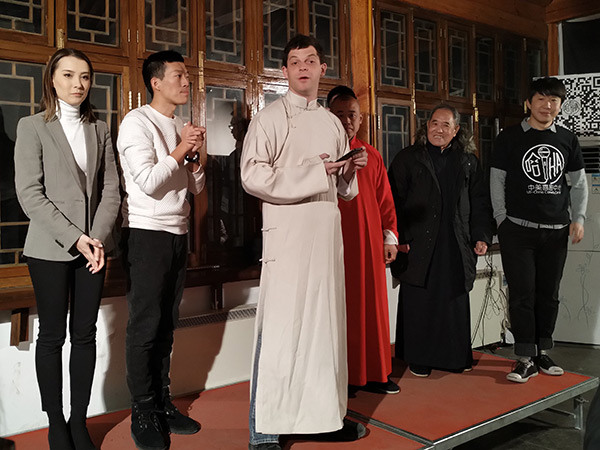 Appell (center) performs at the US-China Comedy Center in Beijing. [Photo provided to China Daily]
He sometimes feels tired, he says, and wonders whether he should focus on just one kind of comedy, like his old friend Shi Jiefu. Shi is the founder of Danliren Comedy, a company that specializes in offline stand-up comedy shows and talent training, and which acquired tens of millions of yuan of financing from Youku in May.
Ultimately though, Appell is too passionate about both forms to give up either one, and so, emulating his friend Shi, he has set up his own comedy company, jumping through all of the official hoops to do so.
Another Chinese friend of Appell, Wu Fan, is a comedian who works full time for Danliren, including offering his skills as a tutor, and differs from Appell and some of the other comedy stars who have become well-known for their online shows, in that he prefers to do live performances.
Wu, 33, has trained more than 100 part-time comedians, including policemen, journalists and university students, and his shows are highly popular, but he is keen to do more live shows, which he feels is a better way of promoting himself. Even mediocre comedians can cash in on the internet because, he notes, it is not difficult to be noticed online.
Without hesitation, though, Wu gives Appell a thumbs-up and commends him for his rich stage experience, profound performance skills in stand-up comedy, impromptu comedy and crosstalk. His performance has strong appeal, good rhythm control and reaction, Wu says.
Appell inspired him a lot, Wu adds, and he participated in the free impromptu comedy training program of the US-China Comedy Center before joining Danliren. There he was surprised by the quick-fire creativity of improvisational comedy created through "say-yes" teamwork, which is far removed from the hard, solitary thinking required when preparing for a solo stand-up comedy show.
However, they always exchange experiences when they both appear on the bill for Danliren. In October, during Appell's performance, there was an act of paying money during which Appell pulled out some cash from his pocket, and Wu suggested that he should take out his mobile phone to pay, which could be more realistic.
Earlier, Wu was a part-time actor with Mahua FunAge, a comedy company that produced many popular stage plays and comedy films.
And the jokes or stories they told related to feeling down and accepting the realities of life in a way that produces optimism, he says. In any case, comedians look at life in a playful way, and that is why young people are fond of stand-up comedy and talk shows, he says.
Appell and Wu, drawing on two different cultures and working in two different ways, are intent on ensuring that their audiences always see the funny side of things.