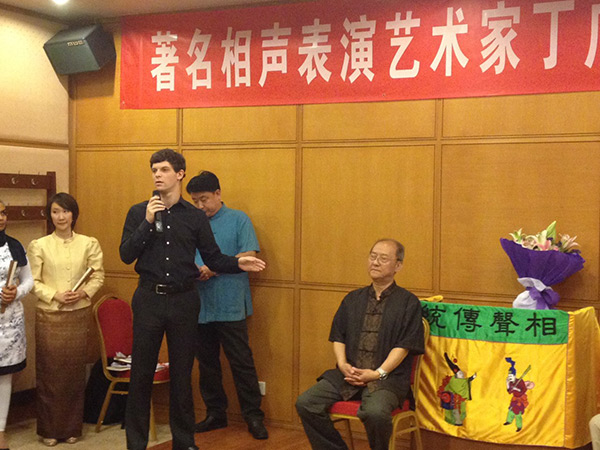 American Jesse Appell (left) has learned Chinese crosstalk from celebrated performer Ding Guangquan (right). [Photo provided to China Daily]
"I'm from the northeast, too," Jesse Appell says in a thick dongbei accent, before swiftly adding for his audience's relish, "from the northeastern United States."
Appell is in full swing giving one of his free performances in a cafe in east Beijing as a member of the Danliren (stand-alone) Comedy Company.
Appell, 28, who has lived in Beijing for six years, has performed in many comedy variety shows in China, such as the Diss Family, and has become a well-known foreign artist on the local comedy scene. He is also the founder of the US-China Comedy Center, which brings together comedians from the two countries.
Over those six years, Appell says, he has watched comedy in Beijing flourish, attracting bigger and ever more loyal audiences. Soon after arriving in the capital to study Chinese in 2012, he started learning crosstalk from one of the most celebrated exponents of the genre, Ding Guangquan, when just a few people were doing stand-up comedy or talk shows, which are Western imports.
Appell says Ding, who died in January last year and had tutored more than 300 foreign students from more than 70 countries over the past 20 years, was his most important Chinese mentor, someone who taught him a lot not only about comedy but also about how to conduct himself. Ding constantly stressed the importance of communicating and interacting with students, listened patiently to their views, and let them think independently and be active in discussions, Appell says. He is now writing a book about him.
"Only in China do I not consider myself the odd man out," he says. "I am always curious about the outside world, while many people in America I have known don't care about it."
Appell is talking in a husky, tired-sounding voice. It's late on a Friday night following an impromptu comedy show at the US-China Comedy Center with his Oh Yeah comedy team, most of whose members are young Chinese.
He says that when he was young he had attention deficit hyperactivity disorder, and medicine he was required to take got him down.
"In China, I have been able to make full use of the positive side of ADHD with my talent for comedy."
He is proud that he is such a rare species in Beijing, performing Chinese stand-up comedy while doing improvisational comedy.
"Stand-up comedy requires a lot of time to write jokes and stories, while impromptu comedy fully taps a performer's skills, reactions and ability to work with team members, cultivating the self-confidence of performers. However, all this takes a lot of time and energy."