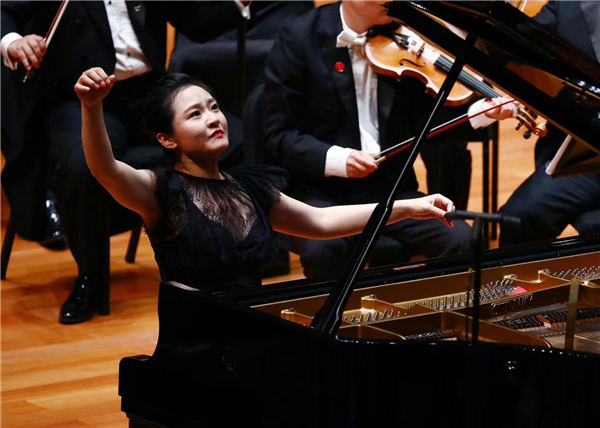 Pianist Yuan Fang will perform the first movement of Beethoven's Piano Concerto No 5 with the Beijing Symphony Orchestra at the Great Hall of the People during the annual New Year Concert on Dec 31. [Photo provided to China Daily]
Yuan performed with the BBC Symphony Orchestra and released an album, on which she plays Beethoven's Piano Concerto No 1 and Piano Concerto No 4, in 2015.
Growing up in Shenzhen, she started learning piano at age 4 and moved to Beijing to join the middle school affiliated with the Central Conservatory of Music at age 11. That's where she grew fond of Beethoven's work, which she describes as "full of human emotions and comforting soulfulness".
In 2001, Yuan chose to study in Germany, hoping to see Beethoven's manuscripts. She spent several years studying with German pianist Gerhard Oppitz while majoring in piano and chamber music at Munich's University of Music and Performing Arts.
Yuan returned to China in 2008 and taught at the Central Conservatory of Music from 2008 to 2016.
She planned to record Beethoven's Piano Concerto No 5 this year but had to postpone it because of her pregnancy.
"When I practice the piece at home, I feel different. I am very relaxed while playing. The emotion is deeper and the inner strength seems to be doubled, which might be a result of motherhood," says Yuan, who is already the mother of a 6-year-old girl and will welcome her second child next spring.
Motherhood makes her music rich and emotional, she says. She can still recall that, when she studied in Munich, she was impressed by a winner of the ARD International Music Competition, the largest international classical-music competition in Germany. The winner was a Romanian pianist, who was pregnant.
"She played Beethoven and Mozart during the competition. Being pregnant isn't always easy, but it seemed that her baby inspired her and the pianist completed her performances with great confidence and solid technique," recalls Yuan. "It is a gift to female musicians when we are pregnant. We feel something more when we play onstage-grateful and blessed."