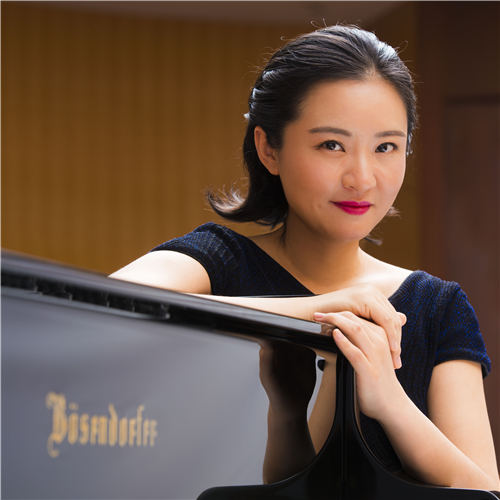 Yuan Fang, pianist. [Photo provided to China Daily]
As she prepares to perform Beethoven at the Great Hall of the People, pianist Yuan Fang says becoming a mother has enhanced her music.
Written between 1809 and 1811 in Vienna, Piano Concerto No 5 was Ludwig van Beethoven's last completed piano concerto.
Known as the Emperor Concerto, the composition exudes a powerful, grand and heroic mood.
On Dec 31, Chinese pianist Yuan Fang will perform the first movement of the piece along with the Beijing Symphony Orchestra at the Great Hall of the People during the annual New Year concert, which was first launched at the venue in 1996.
It is not the first time that Yuan will perform at the New Year concert in Beijing. On the last day of 2015, she played Beethoven's Piano Concerto No 1 with the Czech Philharmonic under the baton of Czech conductor Petr Altrichter.
This year, Austrian conductor Friedrich Pfeiffer, who is the conductor of the Vienna State Opera, will lead the Beijing Symphony Orchestra, which will also perform Bolero by French composer Maurice Ravel, Voices of Spring by Austrian composer Johann Strauss II and Ode to the Red Flag by Chinese composer Lyu Qiming.
"I have prepared for a long time to play Beethoven's Piano Concerto No 5. The piece explodes with power but, inside it, you can hear the composer's personal and subtle emotions," says Yuan, who has played with renowned musicians, such as Zubin Mehta and Lawrence Foster.
"As a student, I listened to many versions of the piece interpreted by different pianists. The past experiences of touring worldwide and my performances of many other musical pieces enabled me to finally play the piece onstage with my own understanding."
She played Piano Concerto No 5 for the first time with the Xiamen Philharmonic Orchestra under the baton of US conductor Dorian Wilson in 2015. This year, she played the piece with the Beijing Symphony Orchestra in March at the National Center for the Performing Arts and with the China National Symphony Orchestra at the same venue in May.
Performing Beethoven seems to be the 36-year-old pianist's specialty.