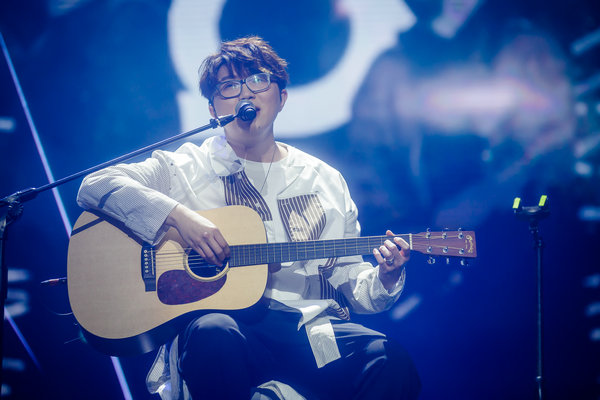 Singer-songwriter Mao Buyi.[Photo provided to China Daily]
About two years ago during his final year at Hangzhou Normal University, Mao Buyi began a nursing internship at a hospital in Hangzhou, capital of Zhejiang province.
His main task was to clean wounds, monitor patients' conditions and progress, communicate with them and offer comforting words.
However, he found the job stressful, and to ease the pressure he took to playing the guitar and writing songs in his dormitory after eight-hour shifts at the hospital.
Last year, the 24-year-old rose to fame after being crowned champion in the first season of the 15-episode reality show The Coming One, produced and broadcast by Tencent Video, a streaming platform owned by internet giant Tencent. Each episode attracted about 300 million online views.
One of his original songs, Drink Sorrow Down, which he wrote during his internship, became one of the biggest hits of 2017.
In May, Mao released his debut album, Perfect Day, which notched up sales of 1 million in just nine hours, according to NetEase Cloud Music, an online music streaming platform operated by internet technology company NetEase.
Fans are attracted to Mao's poetic lyrics and melancholy melodies. The number of followers on his Sina Weibo account has reached nearly 120 million.
From Sept 22 to Nov 17, he launched his first tour, making stops in Shanghai, Beijing and Chengdu, Sichuan province, with nearly 300,000 seeing him at the three locations.
Mao, whose real name is Wang Weijia, was born in Tailai county, Qiqihar, Heilongjiang province. "Songwriting is fun to do, but I never expected my songs to make money. They are very personal, just like diaries," he said.
His rise to stardom has also thrown the spotlight on China's younger generation of original singer-songwriters. Their diversity of musical styles has become increasingly popular among young people in urban areas.