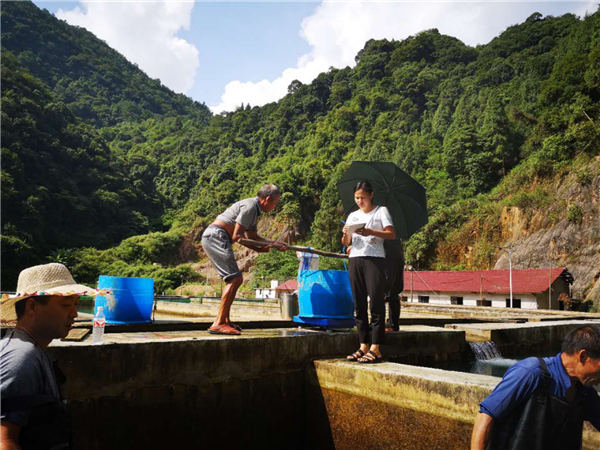 Yang Xiuping (center), a former factory worker who now runs an aquaculture company in Tongren, Guizhou province, takes stock of on-site work in 2015. [Photo provided to China Daily]
The traffic situation and public sanitation in Shanghai have improved over the decades, he says, adding that with people migrating from elsewhere the local dialect is spoken less.
Chen Shumin is a teacher from Jincai High School located in Shanghai's Pudong district. When she started working at the school in the late 1990s, the campus was still surrounded by farmlands, with no place nearby to buy even a packet of chips. In the past 20 years or so, a subway line has been built and so have shopping malls, she says.
The development of the Pudong New Area began in 1990.
A Shanghai native, Chen, also 42, says it was inconceivable growing up in the 1980s that Chinese people would have a different life in the future.
"People were living in old crowded houses, sharing kitchens and toilets, and had little personal space or privacy," she recalls.
Chen herself used to take showers at the factory where her mother worked, she adds.
Chen, who mentors students learning photography, says two decades ago, the city had few shops where a range of cameras and lenses were sold. Her students, though, have far more choice.
"Reform is the norm. It will go on," Shen, the corporate trainer, says.
All five Chinese in their 40s express optimism in China's future but vary in their assessment of it.
Some recognize the challenges that remain-fixing environmental degradation being one.