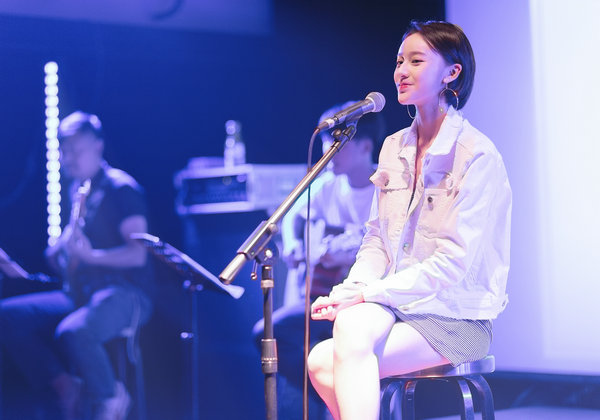 Singer-songwriter Liu Xinran.[Photo provided to China Daily]
Yan produced rock group Tang Dynasty's album A Dream Return to Tang Dynasty in 1992 and rock singer-songwriter Dou Wei's album Yan Yang Tian in 1995. He is a judge for the 2018 Original Band Contest, co-organized by Rock Records in Taiwan and music technology company Xiami, which was held at the Tango Club in Beijing on Nov 10.
The contest was won by the four-piece band Jiulian Zhen Ren from Lianping county, Guangdong province. The band performed two of its original songs in the Hakka dialect and won the chance to record its own numbers with Rock Records, collaborating with veteran producers and promoters in a contract worth 1 million yuan ($144,790).
According to a report from the 2018 China Music Industry Forum, which was jointly organized by the State Administration of Press, Publication, Radio, Film and Television, Communication University of China and the Music Industry Promotion Committee, statistics show that the industry in China has developed dramatically amid the changing ways in which people listen to music and how they pay for it.
Released in Beijing on Dec 19, the report said the value of the country's digital music industry last year was more than 58 billion yuan, a year-on-year rise of 9.6 percent, and there were more than 520 million digital music users in China. The income of the Music Copyright Society of China was more than 816 million yuan last year, up by 17.2 percent year-on-year.
The value of the country's music performance market reached 17.6 billion yuan last year, when more than 15,000 live shows were staged, attracting audiences of more than 13.4 million and a box office of nearly 6 billion yuan, a year-on-year rise of 23.4 percent.
The report also highlights developments in the music industry, including the streaming company Tencent Music Entertainment Group's initial public offering in the US on Dec 12.
A government policy supports music as a form of cultural production. Zhao Zhian, vice-president of the School of Music and Recording Arts at Communication University of China, said a National Copyright Administration notice issued in 2015 stipulates that online music delivery platforms must remove all unauthorized songs. This has been seen as a major move in the fight against rampant piracy in the industry.
Veteran singer-songwriter Ding Wei said at the release of the 2018 China Music Industry Report in Beijing on Dec 19: "Audiences can now access a much wider range of musical genres and works. They're searching for diversity and new blood. The market is becoming more demanding, and we are seeing many new faces appearing. They may attract some attention thanks to one or two popular songs, but for them to be remembered, they have to constantly produce high-quality music."