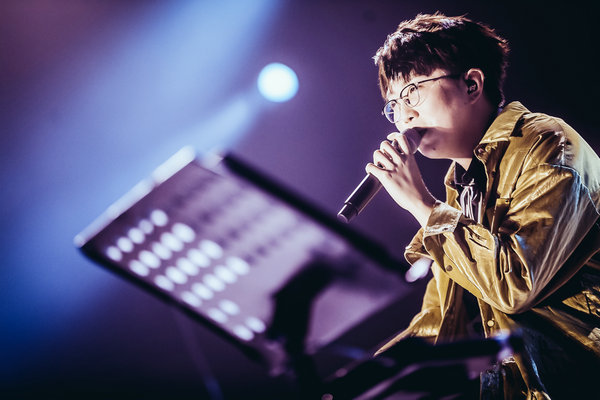 Singer-songwriter Mao Buyi was crowned champion in the first season of the online reality show The Coming One, which enabled him to become one of the most popular singer-songwriters in the country this year.[Photo provided to China Daily]
Like Liu, many other young musicians, such as singer-songwriter Mu Xiaoya, who works from Nanjing, and The Landlord's Cat, a Chinese indie folk duo formed by university friends in Wuhan, capital of Hubei province, are also garnering their own fan bases online and becoming some of the most popular acts playing live house venues and outdoor music festivals nationwide.
Yang Hui, general manager of the original music department at Net-Ease Cloud Music, said the online music platform, which has more than 600 million registered users, has been giving exposure to original Chinese singer-songwriters since 2013. Over 70,000 singer-songwriters had joined NetEase Cloud Music as of September, making it the biggest platform for them in China.
"We have a series of plans to support the budding careers of independent musicians, from collecting original material online to featuring the singer-songwriters in our live music shows," said Yang, who launched her own band as a student and who has adopted the stage name Pink. "Our goal is to generate a fresh supply of high-quality musical content for the platform," she added.
Yang said the music industry is experiencing "great changes".
For decades, record companies were the industry's main driving force. Budding singer-songwriters sent demo tapes to the companies, who selected and signed artists, met the high cost of renting studios, producing albums, marketing, and were responsible for pushing album sales.
However, with recording moving into the digital era, and with physical records being replaced by digital distribution on the internet, the relationship between the mushrooming younger generation of Chinese original singer-songwriters and music labels has changed. Online platforms are starting to play a vital role in capturing the country's vibrant music scene.
Rave Now, a new reality show launched by Tencent Video on Dec 1, has put electronic music in the mainstream spotlight by showcasing a growing number of artists.
Alan Walker, a 21-year-old Norwegian-British producer, opened the show with his 2015 breakout single Faded, and the first episode received more than 140 million views online.