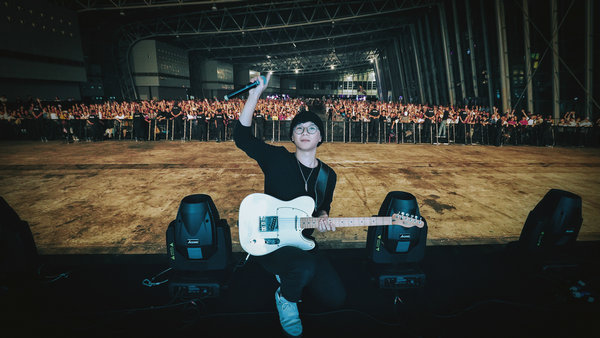 Guo Qu, who trained at Berklee College of Music in the United States, has risen to fame in China after releasing his original tracks online.[Photo provided to China Daily]
When Liu Xinran, an independent musician in Beijing, started to take her musical ambitions seriously, she posted her original works online. Liu, 20, who is studying acting at the Central Academy of Drama in Beijing, received an overwhelming response.
From March to December, she released five original songs and versions of popular hits, enabling her to build a fan base of more than 36,000 on her NetEase Cloud Music channel. Her music videos have received more than 10 million views on the platform.
This year, she has toured three cities to perform her songs, including How The Steel Was Tempered. The shows attracted nearly 1,000 fans.
"I write songs about my life, such as the failure when I first applied to university, and my school life now. I didn't expect so many people to share my feelings," said Liu, who was born in Nanjing, capital of Jiangsu province.
"I never formally learned composition. I started by writing lyrics, and revised my first few songs repeatedly before releasing them online. I was very nervous about the feedback from listeners," she said.
The singer-songwriter said her grandparents, who are music lovers, introduced her to music when she was very young. The first few songs she learned as a child were the pop hits of singer Tsai Chin, which she was taught by her grandparents. Liu learned to play piano when she was 4, and later bass guitar when she founded her own band in high school.
"Music, whatever the genre, is free. I can talk about my life, what I am thinking about," Liu said, adding that she is a big fan of the singer Ariana Grande from the United States. She has listened to all of Grande's songs and enjoys her live performances. "My grandparents now listen to my songs online and play them at my home in Nanjing. It's like a dream come true," she said.