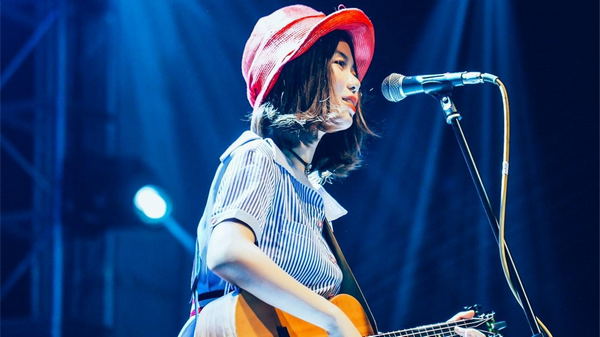 Singer-songwriter Mu Xiaoya.[Photo provided to China Daily]
Musician Guo Qu, who trained to be a geodetic engineer at Wuhan University, was one of the contestants. The self-taught guitarist decided to become a musician and furthered his study at Berklee College of Music in the US city of Boston by studying a music production and engineering major. He returned to China in 2016 and started to release electronic music tracks online under the name of Panta. Q.
He was one of the so-called bedroom producers, which refers to indie musicians making music in their bedrooms.
Guo, who was born in Changsha, Hunan province, and who has more than 10 original tracks to his name, said: "As computer technology has become more accessible and music software has advanced, I only need a laptop to make a song and distributed it online. I don't make music with the aim of it being the next big hit. I just want this to be 100 percent about the music I like."
Other platforms have also announced projects to nurture talented young musicians, including Alibaba-owned Xiami Music, which has run two seasons of The Undiscovered contests for indie artists, and The Force, a new contest which is part of the Tencent Musician Program, a project launched by Tencent Music Entertainment Group for aspiring Chinese musicians.
On Dec 14, Modern Sky, an indie music label in Beijing founded by former rock singer-songwriter Shen Lihui in 1997, released the album Young Blood, which includes songs from 10 young Chinese bands. In its second year, the Young Blood project chose 10 winners from more than 1,000 bands in six cities, who posted their original material online early this year.
Paul Yan, a well-known music producer from Taiwan, said: "It's always exciting to see young Chinese musicians and listen to their original sounds. For decades, the country has been full of creative young musicians. What makes the younger generation unique is that it keeps up with the world's latest technology and newest musical trends. With the internet, it knows how to deliver music, interact with the fans and manage itself."