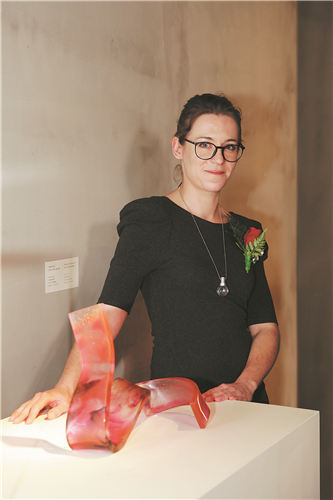 Juliette Leperlier with her glass sculpture at the opening of her debut exhibition on the Chinese mainland. [Photo provided to China Daily]
"I would have been drawn to glass sculpting, even without my family heritage," Juliette Leperlier said later. She inherited his studio in 2014, after her father's death. In the same year, she won a competition held by the Atelier d'Arts de France. She has since "succeeded in creating her own signature", according to Laura Capazza-Durand, a curator of Galerie Capazza in France.
"Juliette Leperlier is representing the new generation of French glass artists well, daring to be herself," Capazza-Durand says. Juliette learned from her father and uncle, who themselves learned from their grandfather, how to manipulate the delicate medium of glass. "And she introduced a kind of feminine touch," Capazza-Durand says. "The forms she creates are full of delicacy. Some of them are almost anthropomorphic, exuding a character, as if they were someone you've known forever."
Leperlier says her early works were inspired by nature, and took their forms from bees, sea urchins and blooming flowers.
She learned from her ancestors how to work with the unique quality of glass, a material full of contradiction. It is transparent and penetrable by the light, and yet you can place colors inside. It is unstable and in constant movement as a fluid, "but you can capture the movement, like stopping time," she says.
Her works are usually characterized by simple forms and clear lines, such as the recent series named Vice Versa and Coriolis Force, the latter being a scientific definition of the inertial force that acts upon objects in motion. Chang observes that she "rearranged the complex to be simple and reimagined the heavy into light".
Leperlier has a friend in France who gives her acupuncture treatments. From him, she learned about the Chinese concept of qi (natural energy) and created work that demonstrates her understanding of how energy flows in an endless circle.
As the third generation of the family to become an artist, she was faced with the challenge of proving "that she deserved this legacy, that she had something special to show the world", says Capazza-Durand.
"She has a name. But most of all, she has a first name."
If you go
Raging Fire, Icy Heart: The Glass Exploration Burns Eternal Poetry in Glass
Juliette Leperlier solo exhibition. Liuli China Museum, 25 Taikang Road, Shanghai.
021-6467-2268.
10 am-5 pm, Tuesday-Sunday, until Mar 31.