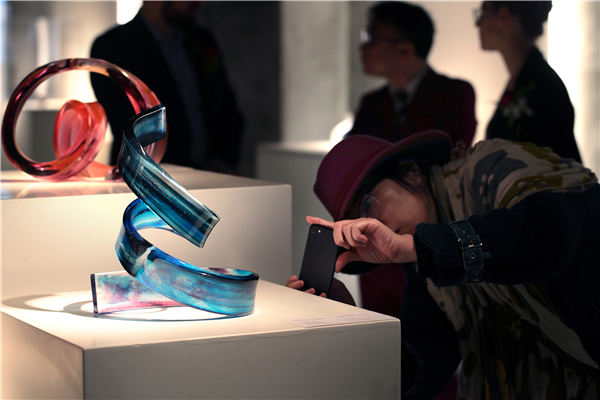 A visitor takes photos of Juliette Leperlier's glass sculpture, Counterpoint V, at Liuli China Museum in Shanghai. [Photo provided to China Daily]
It was natural that Juliette Leperlier became a glass artist, given that her father, uncle and great-grandfather have all won worldwide recognition for their work with the material.
The 34-year-old Frenchwoman is the new face of pate de verre-a technique of glass casting that means "glass paste" in English-and the sole female artist in the family. Her debut exhibition on the Chinese mainland is underway at Liuli China Museum in Shanghai and will run until March 31.
The Leperlier family has a long history of creating art from glass. Her great-grandfather, Francois Decorchemont (1880-1971), was a pioneer of pate de verre. His advancement of the technique and mastery of color placement solidified his standing in the history of glass art. Her father, Etienne, and uncle, Antoine Leperlier, are both internationally recognized glass artists.
Thirty-five pieces by Juliette, alongside sculptures created by her great-grandfather, father and uncle, are on display at the exhibition, Raging Fire, Icy Heart: The Glass Exploration Burns Eternal Poetry in Glass. The displays showcase the achievements of glass art in France from the mid-1800s until today.
As a child, Juliette used to play by the kiln and assist her father in his studio. For a long time, she resisted the seemingly natural choice to follow in his footsteps.
"I didn't want the glass to choose me. I wanted to be the one who decided to tame it," she used to say.
"Unconsciously, I was doing everything to get away from the glass paste. I didn't want to be pressured by the family situation."
She studied art in college and explored different media. "However, the more she learned and the further she went, she heard the glass calling to her," says Chang Yi, founder of Liuli China Museum and curator of the Juliette Leperlier exhibition.