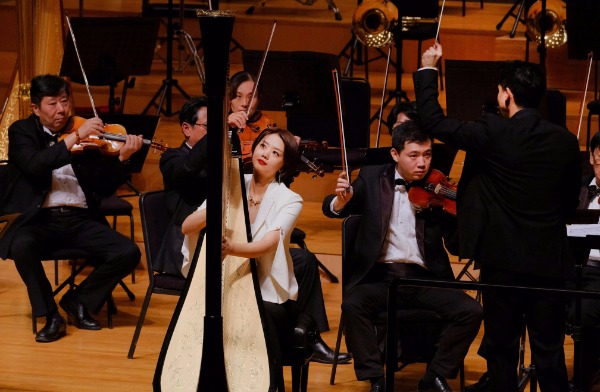 [Photo provided to China Daily]
Formerly a graduate from China's leading music academy, the Central Conservatory of Music, and a harp teacher at the Tianjin Conservatory of Music since 2014, Sun has devoted herself to popularizing the harp.
In 2012, she assisted in the preparations for the second Camac Festival in France, and in 2014, she helped run the first Central Conservatory of Music International Harp Festival held in China.
"When we speak about the harp in China, we always think of lyricism, divinity and elegance," she observes. "however, in Scotland and Wales, the harp is a folk instrument, and sometimes when we performed at music festivals in Scotland, people would hold hands and start dancing."
Studying and performing in the UK, Sun was exposed to a range of modern compositions, different from the education she previously received where there was a special focus on classical symphony.
Meanwhile, she performed Danses Sacree et Profane at the Royal Northern College of Music and Lancaster University in March. As the piece was originally written for harp and quintet, Sun's previous performances were both presented in a small chamber setting.
"Then, we didn't have a conductor, so the cooperation was largely based on individual judgment," she says.
"But working with Lam was different, for he is very familiar with this piece, and pays attention to the balance between me and the orchestra."
The harp and orchestra version of this piece requires a high level of coordination between the harpist and the orchestra.
Sun notes that she initially had qualms about performing with an orchestra, as the harp section requires a degree of freedom that is not entirely in accordance with the overall tempo. However, after the first rehearsal, her concerns were addressed when the cooperation between all parties ran smoothly.
"When there's a soloist, it's about knowing what she's going to do and showing the orchestra so that they can follow," Lam explains.
"Sun Shimeng is a wonderful collaborator, very clear about what she wants, and she's intimately acquainted with the piece."
Sun has now decided to teach at the Tianjin Conservatory of Music and to promote the harp among students at the affiliated middle school of the conservatory, but she is not giving up performing.
This month, Sun will be performing Mozart's Flute and Harp Concerto with the BBC National Orchestra of Wales as a guest soloist on its China tour, which includes Beijing, Changsha and Wuhan.
If you go
NCPA,
No 2 West Chang'an Avenue, Xicheng district, Beijing. 7:30 pm, Dec 15.
010-6655-0000.