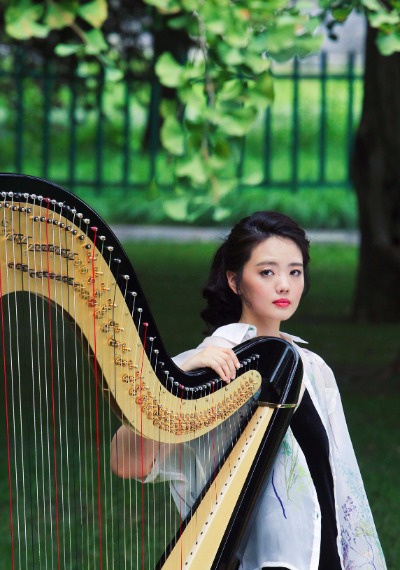 Chinese harpist Sun Shimeng.[Photo provided to China Daily]
Sun Shimeng, who recently completed her music studies abroad, introduces fans to a livelier sound
While the harp often seems to be enveloped in an aura of serenity and mystique, Chinese harpist, Sun Shimeng, is committed to introducing a livelier type of harp music to China.
Sun performed along with the Beijing Symphony Orchestra, under the baton of Chinese-Australian conductor Dane Lam, at the Forbidden City Concert Hall recently.
At the concert, Sun played Danses Sacree et Profane (a sacred and profane dance), a harp concerto written by Claude Debussy.
According to Sun, Danses Sacree et Profane is one of the most renowned compositions written specifically for the harp, and its rich variations of mood and tonality fully reflect the powerful expressiveness of harp music.
"The piece was first written for cross-strung harps, meaning that some parts are unsuited for the modern single-course pedal harp used at concerts," says Sun.
"Though later musicians adapted this piece, it is still very difficult to play, but because this piece is so beautiful, people nowadays are still willing to overcome these obstacles and perform it on stage."
Sun, 27, recently completed her studies at the Royal Northern College of Music in the United Kingdom, specializing in harp performance.