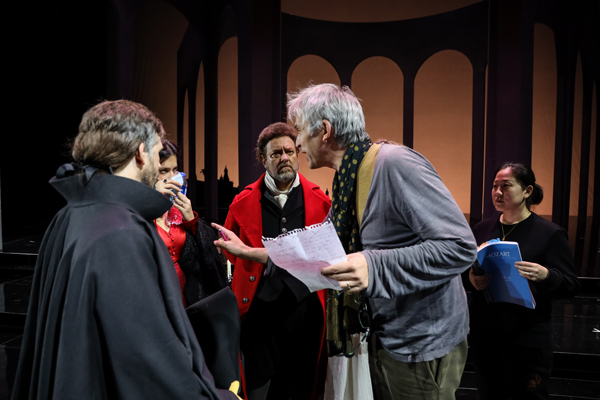 Director, set designer and costume designer Yannis Kokkos (right) instructs the opera singers during a rehearsal. [Photo provided to China Daily]
"Don Giovanni is a very mysterious and disturbed person. No one really understands what he thinks. He is really a person who has in him the sense of living in the moment. He has no past, no future, just the pleasure of the moment." Kokkos says.
Separately, the NCPA, as previous productions go, uses two sets of cast, one international and one Chinese, for the opera.
Don Giovanni in the international cast is played by the Italian baritone Vittorio Prato.
Speaking about the character, he echoes Kokkos, saying: "To me, he (Don Giovanni) is not only a seducer, but a symbol of men who enjoy life and satisfy their own desire and ego. He doesn't follow convention, and I believe that's why many people are attracted to this character."
For the Chinese cast, Don Giovanni is played by Zhang Yang, a NCPA resident opera singer. After being assigned the role, Zhang declined almost all of his other performance opportunities in the past half year.
"This is the character for whom I have devoted the most effort. It is quite challenging, as I am required to sing almost from the very beginning to the end. And because of the charming appearance of this character, I have lost about 9 kilograms," Zhang says.
"The deeper I get to know the libretto, the greater Mozart seems to me. I want to present my best performance and give my full cooperation to the director and the crew." Zhang adds.
Speaking about his job of directing the cast members, Kokkos says: "It's very interesting for me to direct two sets of people in realizing the same vision, the same dream."
As for the music, this production features the original Viennese version score published by the Barenreiter publishing house, and will be performed by the NCPA Orchestra under the baton of Lyu Jia, the artistic director of music at the NCPA.