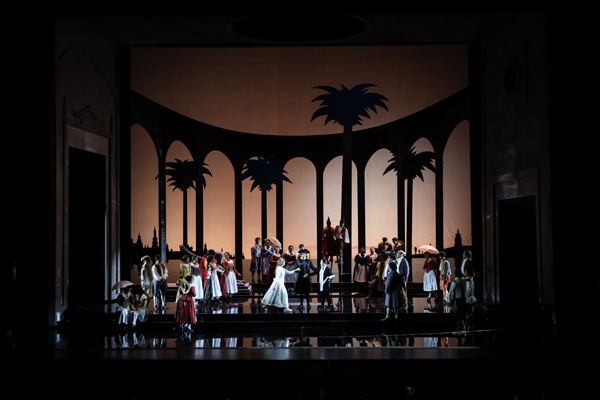 The NCPA production of Don Giovanni is due to start from Tuesday in Beijing. [Photo provided to China Daily]
NCPA set to thrill fans with Mozart's Don Giovanni, Cheng Yuezhu reports.
After producing Die Zauberflote in 2009 and Le nozze di Figaro in 2016, the National Centre for the Performing Arts in Beijing is staging another of Wolfgang Amadeus Mozart's timeless classical operas, Don Giovanni, from Tuesday to Saturday.
Many literary and theater works have been written based on the story of the libertine Don Giovanni, or Don Juan, in the past 400 years. But the two-act opera by Mozart and librettist Lorenzo Da Ponte is arguably the most renowned.
Speaking about the upcoming production, Zhao Tiechun, the vice-president of the NCPA, says: "We decided to present the abstruse Don Giovanni to the audience, only after introducing them to Mozart's operas with The Magic Flute and The Marriage of Figaro, as part of a methodologically arranged repertoire plan."
According to Zhao, Don Giovanni, with its long recitatives, complicated plot, intricate character relationships, and frequent changes of scenes, might be slightly difficult for the audience to comprehend.
Meanwhile, Yannis Kokkos, a Greek stage director who directed the opera Lucia di Lammermoor by Gaetano Donizetti at the NCPA in 2017, again take the helm as the director, set designer and costume designer.
Speaking about his latest assignment, Kokkos, who has won the Laurence Olivier and Moliere awards, says: "We want to make all the elements immediately understood, even by first-time viewers," while explaining the difficulty in doing so because the character of Don Giovanni is complicated.