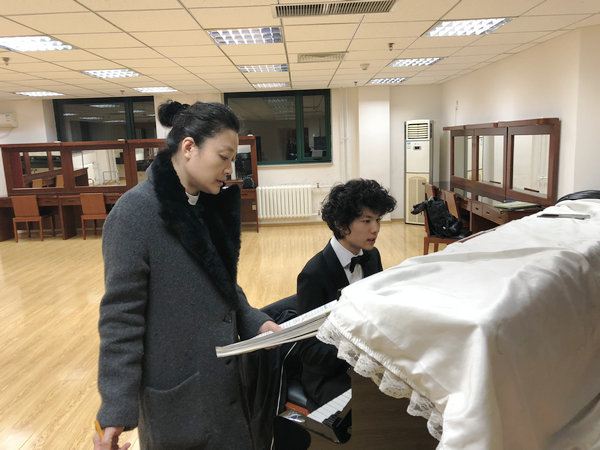 Conductor Zhang Jiemin (left) and pianist Tony Siqi Yun practice before the concert. [Photo provided to chinadaily.com.cn ]
The piano concerto was composed by young Chopin when he was only 20-year-old.
Yun, also with young people's high spirit yet sensitive mind, gracefully conveyed the romantic beauty and peace in the note. His elegant style and perfect skill soon won the hearts of audiences as the sound of piano began.
When he finished the last note, thunderous applause seemed to echo the applause for the concerto's debut on Oct 11 in 1830.
In fact, the Piano Concert No. 1 in E minor, Op. 11, was first played during one of Chopin's "farewell" concerts before leaving Poland.
Coincidentally, after the performance, Yun will soon return to New York to go on his piano study at the Juilliard School's Pre-College Division. The young pianist acquired excellent skills at the Middle School Affiliated to the Central Conservatory of Music, and also never missed academic studies at Dulwich College Beijing.