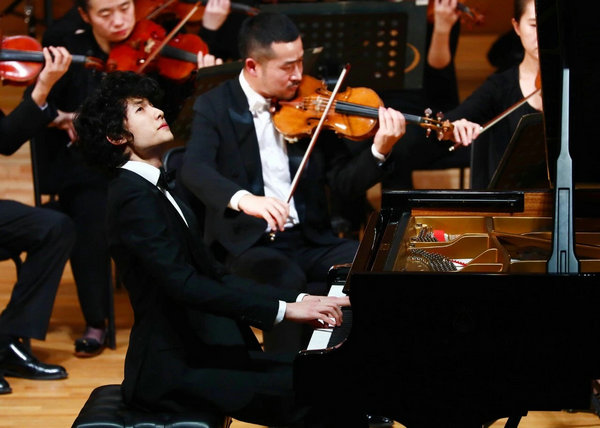 Pianist Tony Siqi Yun performs at the concert, Forbidden City Concert Hall, Beijing, Nov 11, 2018. [Photo by Fu You/provided to chinadaily.com.cn]
When most Chinese people were happily filling their shopping baskets on the annual shopping festival on Nov 11, a group of musicians from the China Philharmonic Orchestra (CPO) did something different.
They gave a performance at the Forbidden City Concert Hall at the balmy evening on that day. The concert, a part of the CPO's 18th season, brought as much joy to classic music lovers as shopping brings to others.
One of the most influential Chinese female conductors Zhang Jiemin, conducted Felix Mendelssohn Bartholdy's Die Hebriden, Op. 26 and Frederic Chopin's Piano Concert No. 1 in E minor, Op. 11.
Tony Siqi Yun, 17-year-old pianist, who was named the 2018 champion at the "Thomas and Evon Cooper International Competition" in Cleveland, played the well-known note from Chopin.