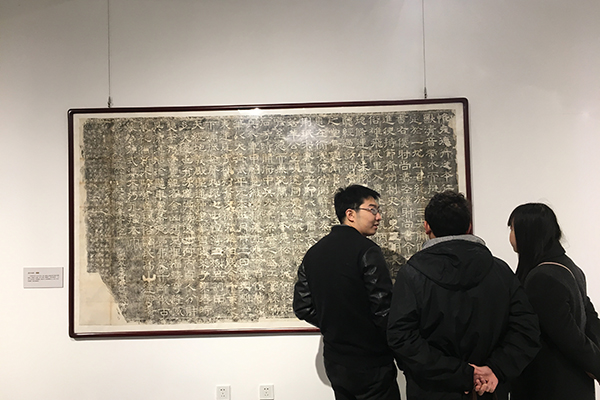 Dozens of precious rubbing pieces on loan from the Anyang Municipal Museum introduce different facets of the ancient city's history. [Photo by Wang Kaihao/China Daily]
Zhou illustrates the rubbing of a tombstone from the Eastern Han Dynasty (25-220) as a highlight at the exhibition.
The tombstone was unearthed in 1991, and belongs to a merchant named Yan Juzhao.
"It reviewed Yan's lifetime and highlighted his love for his parents, piety for Confucius, and philanthropy," Zhou says.
"It also told how Yan started his business. The scripts on the stele represent the typical style of Han period."
Only part of the original stele survives and the 69 cm by 68 cm rubbing contains 243 characters. However, Zhou says it is probably China's only extant example of a merchant's tomb from Han Dynasty (206 BC-AD 220).
Another exhibit is the rubbing of the tombstone of Han Qi, a high-ranking official during Northern Song Dynasty (960-1127) who was a native of Anyang. Han served at the court of three consecutive emperors, and his epitaph, containing 6,160 characters, records many key historical events during that time.
"It is also the longest epitaph for an ancient Chinese official ever found," Zhou says.
Covering many eras throughout the exhibition, the rubbing of the tombstone of a general Xue Xiuyi, also on display, echoes many historical files on the Northern Qi Dynasty (550-577).
Of course, the Anyang Municipal Museum also brought some rubbings of their famous Shang Dynasty bronze ware to Beijing, and are employing a unique technique to display them.
The "three-dimensional rubbings" inks different sides of a single item of bronze ware on the same piece of paper.
It resembles the cubism style of Western modern art, but unlike abstract artistic expression, this skill originated in the late Qing Dynasty (1644-1911) and is famed for its faithful recording of the appearance of original artifacts.
"This exhibition also introduces how Chinese characters have developed," Guo Bao, director of the Beijing Stone Carving Art Museum, says. "It is a history of calligraphy."
For example, Xue's tombstone shows a clear transition of the calligraphic style of the time to the "regular script" which is commonly used today.
The Beijing Stone Carving Art Museum is probably the ideal place in the capital city to show these rubbings. The museum, which was established on the site of a Zhenjue Buddhist temple dating back more than 500 years, is now home to over 2,600 stone carved artifacts.
"It is important for museums from different places to share resources and develop more exhibitions based on their own characteristics," Guo says.
If you go
Through Feb 28 Opening hours: 9 am-4:30 pm (Mondays closed) Beijing Stone Carving Art Museum, 24 Wutasi Road, Haidian district, Beijing. A ticket costs 20 yuan, but the first 200 visitors on Wednesdays can enter for free.