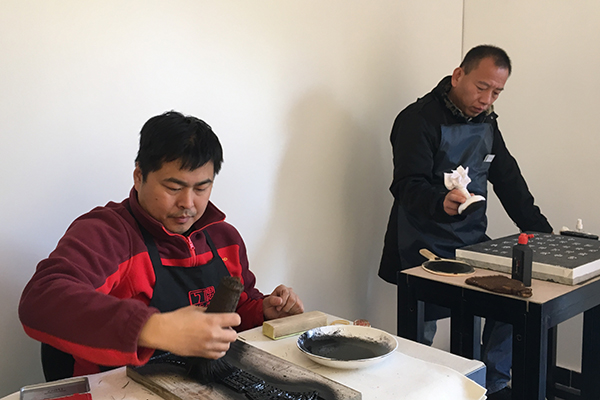 Artisans show a rubbing technique at the ongoing exhibition at the Beijing Stone Carving Art Museum. [Photo by Wang Kaihao/China Daily]
In China, people with even a basic knowledge of Chinese history will understand the historical significance of Anyang in Henan province.
The city is home to UNESCO World Heritage site, Yinxu, the ruins of what served as a capital city during the latter part of the Shang Dynasty (c.16th century-11th century BC) and from where a treasure trove of exquisite bronze artifacts and oracle bones-upon which the earliest known written Chinese characters appear-have originated.
Despite this, and the fact it is regarded as one of the "eight ancient Chinese capitals," Anyang is often overlooked in historical studies in lieu of a focus on later periods in the nation's history.
Therefore, it is refreshing that an ongoing exhibition at the Beijing Stone Carving Art Museum is shining a spotlight on the city's legacy.
Entitled Zhi Mo Shou Jin Shi ("paper and ink prolong the life of epigraph"), the exhibition displays 64 paper rubbings of ancient stelae and bronze ware which are on loan from Anyang Municipal Museum and may showcase the historical vicissitude Anyang has witnessed over the past millennia.
"In ancient China, it was a common practice to record history or write eulogies on stelae and bronze ware," Zhou Wei, director of the Anyang Municipal Museum, says. "However, many original artifacts do not remain intact over the course of a long period, but inked paper rubbings of the epigraphs have ensured that their contents survive."
He says the rubbings are a medium that most closely recreates the original facades of these stone carvings.
"Their historical and cultural significance is irreplaceable, though today's photography is highly developed."
Some of the exhibits are rare examples of their type. They are rubbed from stelae, which were unearthed in Anyang.