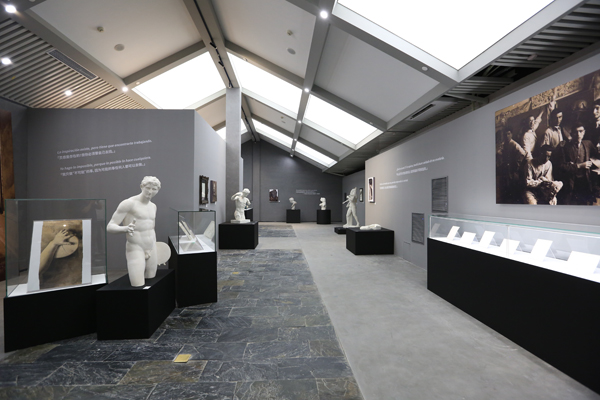 One of the exhibition halls housing artworks of Pablo Picasso. [Photo provided to China Daily]
The inspiration for the painting Guernica is revealed in the second section of the exhibition, where a print, named the Slaughter of Innocents is presented.
"The exhibition is probably to be the first to reveal the inspiration behind Picasso's classic Guernica," says Wang Mingyu, a docent at the exhibition.
"Picasso saw the print from outside a window of his childhood friend's house. He 'stole' and 'revised' the idea of it and created the oil painting Guernica years later," says Wang.
"A special section of the exhibition displays to the public the remarkably similar elements of the two paintings, and visitors will be surprised by Picasso's remarkable memory and creativity," she adds.
The artist's many styles-as well as his proficiency with naturalism, he was a co-founder of the cubist movement, co-inventor of collage as a modern art form and a pioneer of constructed sculpture-from different periods of his creative life, are also represented during the exhibition.
"It is sure to be a diverse cultural and artistic experience, and an opportunity for visitors in China to gain a greater awareness of this great artist and his work," says Maria del Carmen Jimenez, curator of Picasso Museum in La Coruna.
If you go
9 am to 9 pm, Sept 8 to Nov 30
Building 1, Xin Xitang Yuely, 99 Wushui Road, Jiashan county, Jiaxing city, Zhejiang province, China