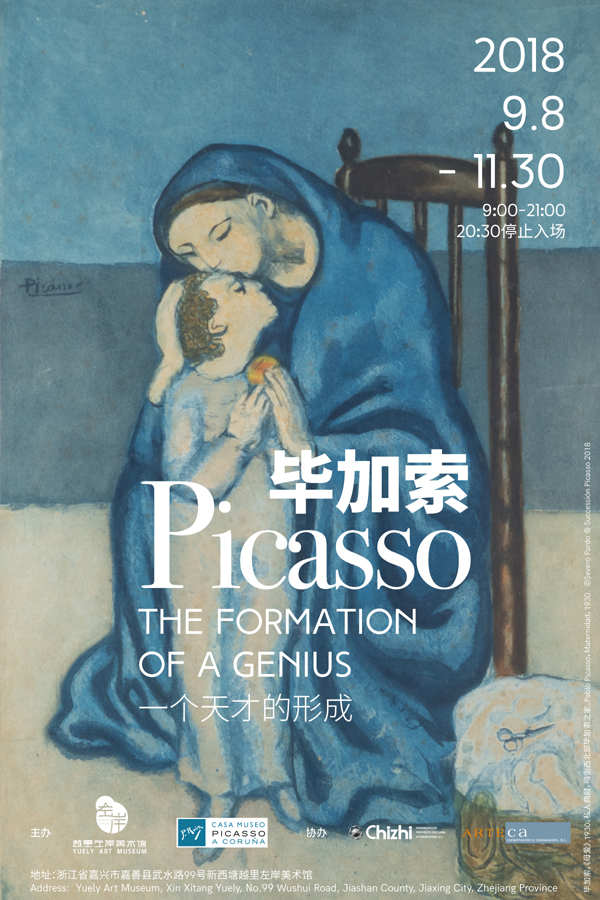 A poster of the ongoing exhibition, Picasso-The Formation of a Genius, held at YUELY Art Museum in Jiashan county, Zhejiang province, China. [Photo provided to China Daily]
Early works of one of the 20th century's most influential artists, Pablo Picasso, are currently on display at YUELY Art Museum in Jiashan county, Zhejiang province, as part of an exhibition which runs through Nov 30.
Picasso-The Formation of a Genius, gathers together 121 pieces produced by the Spanish master as well as five of his mentors, many of which are being exhibited in China for the first time and some that are making their worldwide debut.
Visitors can enjoy Picasso's early work as a student, those created in his Spanish hometown and the iconic Guernica-the piece that propelled him to fame.
Thirty-four Picasso originals are on display, including an album of more than 100 of his sketches and drawings.
"Unlike most exhibitions presenting Picasso's famous paintings in the middle and late phases of his career, this art show focuses on his early work, which was produced when Picasso was learning at an art school and influenced by the people around him," curator of the exhibition, Xu Fenlan, says.
"Some of these pieces haven't even been displayed in Picasso's hometown (Malaga in the Andalusian region of Spain), as his early works are largely owned by private collectors."
"Art buffs will be able to understand the source of his inspiration, as the exhibition provides as an in-depth look at the start of his painting career," says Xu.
Picasso showed a passion and talent for drawing from an early age, receiving artistic training from his father, a traditional academic artist and instructor, in figure drawing and oil painting from age 7.
The family moved to La Coruna, Galicia, Spain, in 1891 and stayed almost four years, where his father became a professor at the School of Fine Arts, where Picasso received a formal art education.
The exhibition recreates the environment where the budding artist spent his adolescent years, according to Wu Yanfen, manager of business division at CFLD International, the organizer of the exhibition.
"For example, interspersed with the artwork, visitors will see a representation of the bustling streets that inspired him to become an artist and the school where he acquired his painting skills and knowledge, in the first section of the show," said Wu.
"We have also brought genuine pieces from the painter's former residence in Spain to the museum, including drawings and paintings created by Picasso between the ages of eight and 11 and replicas of some Picasso's hand-drawn sketches are shown-the original pieces are kept at Picasso Museum in Barcelona."